Tesla Falls After Paring Delivery Forecast Amid Factory Strains
Lower guidance raises questions about ambitious factory goals

Company now sees full-year total of less than 80,000 EVs
Tesla Motors Inc. fell after the electric-car maker missed second-quarter forecast for global deliveries and lowered its full-year outlook, citing an "extreme" increase in output in the period's final month.
The shares slid 3.3 percent to $209.40 at 9:35 a.m. New York time. They declined 9.8 percent this year through Friday.
Deliveries of 14,370 vehicles trailed a projection of about 17,000, after an "extreme production ramp" came too late in the quarter to get the cars to their buyers, Tesla said Sunday. About half of the quarter's output in the final four weeks.
Second-half deliveries now will be about 50,000 cars, according to a Tesla statement. That would mean 79,180 Model S sedans and Model X sport utility vehicles shipped for the full year, slightly below its previous range of 80,000 to 90,000.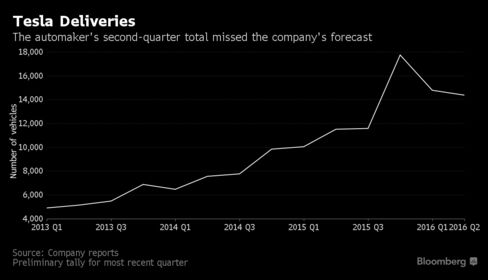 "Tesla's ongoing difficulty in managing launch and production of its vehicles reinforces our concerns around its ability to launch the Model 3 well and reach its pulled-forward goal of 500,000 deliveries in 2018," Emmanuel Rosner, an analyst with CLSA, wrote in note to clients. He reiterated his sell rating and $200 target for the shares.
The carmaker has had trouble getting its vehicles to customers fast enough to meet its targets even after increasing production. Tesla said 5,150 cars were still on trucks and ships making their way to clients who ordered them, and will be delivered in the first part of this quarter. Tesla is increasing output at its Fremont, California, factory with an eye toward making 500,000 cars a year by 2018 -- an ambitious timeline that also depends on the carmaker's battery factory east of Reno, Nevada, coming online with battery-cell production.
Tesla missed its deliveries forecast for the second time in a row this year. In the first quarter, the company blamed the shortfall on "hubris" in adding in too much new technology that led to part shortages for the Model X.
U.S. Probe
The company now faces a preliminary investigation by U.S. regulators, announced last week, into a fatal May crash involving a Model S that had Tesla's Autopilot feature engaged. In a blog post, Tesla said that the crash was the first known fatality in more than 130 million miles of Autopilot driving and that the feature, disabled by default in the cars, requires explicit acknowledgment by drivers who enable it that the system is new technology still in testing.
The carmaker is also contending with investor fallout after its $2.86 billion all-stock offer to acquire SolarCity Corp. last month. Tesla Chief Executive Officer Elon Musk is SolarCity's chairman and largest shareholder.
The second-quarter deliveries figure is a preliminary number that may change slightly in August when the Palo Alto, California-based company reports earnings for the period. Tesla counts a vehicle as delivered if it's transferred to the buyer and all paperwork is correct. The company releases global sales figures quarterly, instead of the monthly country-by-country results typically announced by larger automakers.
Before it's here, it's on the Bloomberg Terminal.
LEARN MORE