Billionaire Brothers Seek to Copy Danaher M&A-Fueled Ascent
Rales's Fortive begins trading Tuesday after spinoff July 2

Analysts recall Danaher's surge from a similar sales level
Steven and Mitchell Rales boosted Danaher Corp.'s market value sevenfold since 2003 in part through savvy acquisitions. Investors will be watching to see if the billionaire brothers' latest offering provides similar returns.
Fortive Corp., which began trading Tuesday after a spinoff from Danaher this weekend, has a similar sales level to what the older company had 13 years ago. That's spurring comparisons between the newly created maker of sensors, controls and measurement equipment and Danaher, which has been buying companies in health care and life sciences. Shareholders received one Fortive share for every two of Danaher they own.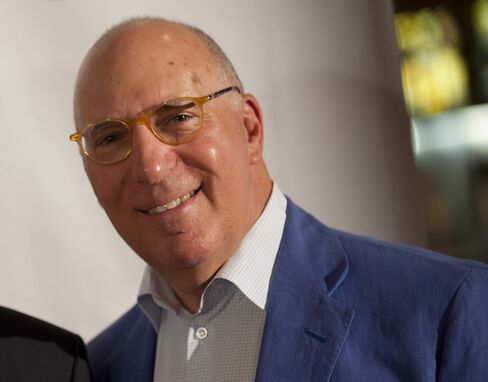 Danaher averaged 10 acquisitions per year in the last decade while widening profit margins. The string of purchases ultimately led to the spinoff, given Danaher's shift to science and technology. Fortive, with $6.2 billion in annual revenue, will keep a sharper focus on the industrial businesses, the company said.
"Fortive's strategy will be the Danaher strategy," Jeff Windau, an analyst with Edward Jones, said by telephone. "The board and the senior management have been doing this for quite some time and they've had a lot of success."
The Rales brothers have had some stumbles as well. In 1995, they founded Colfax Corp., which makes welding equipment and provides fluid handling. After weathering the 2008-2009 recession, shares reached a closing peak of $74.92 in July 2014. The stock has plummeted since then to $26.56 as low oil prices drag on energy investment.
'Premium Multiple'
Fortive fell 1.4 percent to $48.85 at 10:47 a.m. in New York. The Standard & Poor's 500 Index dropped 0.7 percent. Danaher shares, adjusted for the spinoff, rose 2.4 percent to $79.40.
Fortive's stock may be overvalued even if investors view management favorably and expect a steady stream of acquisitions, Julian Mitchell, an analyst with Credit Suisse Group AG, said in a June 30 note. An entry point in the mid-$40s is more reasonable, he said.
"The stock already reflects a premium multiple to peers despite in-line-with-peer financial metrics," Mitchell said.
Fortive's senior managers, who are veterans of Danaher, have made more than 200 acquisitions. The spinoff has the power to make $3 billion of acquisitions over the next two or three years, Fortive Chief Executive Officer Jim Lico said in a presentation June 21.
Danaher's Roots
The Rales brothers founded Danaher in the early 1980s as an acquisition vehicle, using high-yield bonds to buy makers of bar-code scanners, water quality tests, oscilloscopes and Craftsman-brand tools sold by Sears. The name comes from a tributary of the Flat Head River in western Montana, where the two brothers conceived the company's strategy during a fishing trip.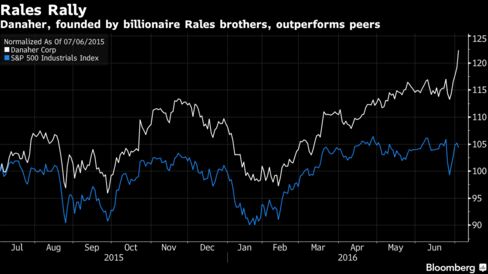 Danaher's $13.8 billion acquisition of Pall Corp. in May 2015 sparked the decision to spin off the industrial business. Steve, 65, has a net worth of $2.3 billion. Mitchell, 59, has $1.1 billion. The brothers have kept a mostly low profile following a couple of unflattering articles, including a 1985 story in Forbes magazine that called them "raiders in short pants" and said they were "cocky to the point of foolishness."
Three decades later, Danaher serves as a benchmark for global companies in multiple industries, Steven Winoker, an analyst with Sanford C. Bernstein, said in a June 23 report. Fortive starts off with a proven management team and a workforce already experienced with the Rales's business system, he said. Danaher had $20.6 billion in sales last year, before the spinoff.
"Our great hope is to be able to reference Fortive in the same way, and for Fortive to be an opportunity to buy into Danaher circa 2003 when it was last in the $6 billion range," Winoker said.
Before it's here, it's on the Bloomberg Terminal.
LEARN MORE