Paschi Leads Italy Banks Lower Amid Fresh Capital Worries
ECB asked Paschi to reduce non-performing loans over 3 years

Paschi fell to record low; market value below 1 billion euros
Banca Monte dei Paschi di Siena SpA led Italian banks to record lows in Milan, succumbing to fresh concerns that the country's lenders are under pressure to raise capital.
Monte Paschi plunged 14 percent to 32.9 cents, the lowest since the stock began trading in 1999. The bank has lost about 73 percent this year, reducing its market value below 1 billion euros ($1.1 billion).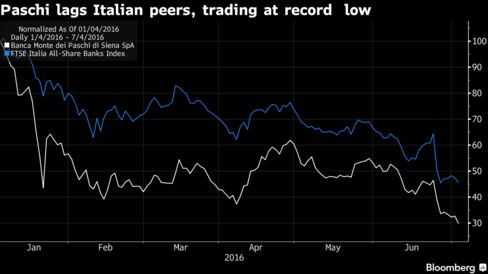 The European Central Bank has asked Monte Paschi to offload more than 14 billion euros of gross non-performing loans over three years, which would reduce the burden to 20 percent of total loans, the bank said in a statement Monday. Monte Paschi, Italy's third-largest bank, had 46.9 billion euros of soured debt at the end of 2015, the bank said.
Selling such a large stock of soured loans "could lead the bank to seek additional capital that investors are not available to provide," said Vincenzo Longo, a strategist at IG markets in Milan. "The government's moves to seek easier rules to support Italian banks underscores the difficulty of the weakest ones, adding pressure to the industry."
The request is part of the central bank's regular supervisory dialogue, a euro-area official said by phone, asking to not be identified because the matter is private. The ECB hasn't used early intervention powers against Monte Paschi, the official said.
Italian newspaper la Repubblica reported the ECB move earlier, describing it as a pre-emptive measure to avoid a resolution plan.
Monte Paschi has sold 2 billion euros of bad loans since 2015, toward a goal of 5.5 billion euros in such disposals by 2018. Chief Executive Officer Fabrizio Viola said in May that he may accelerate the effort.
Weighing Measures
Italian Prime Minister Matteo Renzi is exploring measures to support the nation's banks after Britain's vote to leave the European Union exacerbated a selloff in Italy's lenders. Injecting capital is among the measures under consideration, people with knowledge of matter have said.
A number of solutions are possible for "addressing liquidity and capital shortages in banks without adverse effects on retail investors," Ricardo Cardoso, a spokesman for the European Commission, said at press conference in Brussels.
Renzi's efforts to shore up Italy's banks ran into a roadblock last week, when German Chancellor Angela Merkel insisted on sticking to rules introduced after the financial crisis to prevent taxpayer bailouts. The government in Rome is considering measures that may inject as much as 40 billion euros into banks, according to a person with knowledge of the plans. The commission has approved as much as 150 billion euros in government liquidity guarantees for lenders as a precautionary measure.
"We believe it will be difficult to reach the political consensus necessary to inject public funds as equity," Fitch analysts Francesca Vasciminno and Cynthia Chan wrote in a note on Monday.
Upcoming Stress Tests
Seven of the 10 worst performers in the STOXX 600 Banks Index were Italian lenders, with Banca Popolare dell'Emilia Romagna dropping 7 percent, the most after Paschi, and Banco Popolare down 4.5 percent. The benchmark index, which tracks 48 banks, dropped 1.6 percent.
Regulators are pressing Italian banks to clean up their balance sheets and build up their buffers against losses. Europe's biggest banks are undergoing stress tests, the first since the region's 2014 asset review, with results expected at the end of July.
"Banks with the weakest results could experience increasing market pressure for action on capital," Manuela Meroni, an analyst at Banca IMI SpA, wrote in a note on Monday. "We consider UniCredit and Monte Paschi in the weakest positions."
Before it's here, it's on the Bloomberg Terminal.
LEARN MORE