Now Southwest Can Act Like Other Airlines. Uh-Oh?
A new IT platform will catch the carrier up to its rivals and could boost profits by $500 million. Here's what it means for passengers.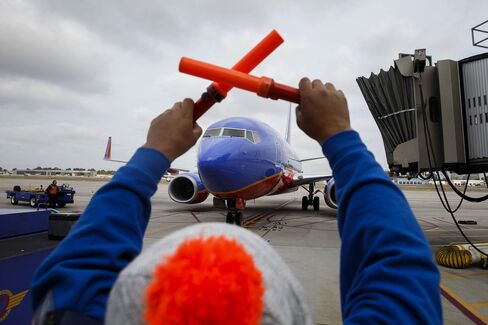 For most of its 45 years, Southwest Airlines Co. has operated with a kludgy hodgepodge of technology systems, mainly built in-house. It was generally a cheaper approach that better fit the needs of its network, radically different from those of hub-and-spoke airlines.
Now, Southwest is racing to catch up technologically. The centerpiece of this three-year, $500 million effort is a new reservations system that Southwest will begin implementing this year, beginning with ticket sales. Operations will move to the platform in the first half of 2017, followed by additional enhancements later that year. The passenger service system, which is being built by Amadeus IT Holding SA, will offer Southwest, the biggest U.S. player by domestic passengers, the same sort of scheduling techniques its rivals have been using for years.
"After 30 years, we're going to have an up-to-date reservation system that will have much more robust capabilities for us to more tactically contemplate making changes to our business model," Chief Executive Officer Gary Kelly said on June 23 at the company's annual investor day.
Among the new capabilities:
Red-eye flights. Southwest negotiated red-eye flying with its pilots in June 2012 but hasn't been able to take advantage of these overnight flights to the East Coast and Midwest. Technology has been the chief culprit, Southwest's managing director of business development, Dave Harvey, said in a recent interview. Dallas-based Southwest has large operations in Baltimore, Chicago, and Atlanta, which are likely to see new red-eye service from the West Coast.
Less-than-daily service. Southwest has to fly the same schedule Sunday-Friday to all the cities in its domestic network, given the current tech, with Saturdays a separate schedule. This limits flexibility, network planning, and, ultimately, the company's revenue. (The airline has some Saturday-only flights but those are a small portion of its schedule.) Southwest doesn't have these strictures on international flights, as those are conducted on a separate system, implemented in 2014.
Day-of-the-week tweaks. Southwest will be better able to adjust for Tuesday or Wednesday, when airlines tend to suffer from leaner demand. This summer, Southwest has 20 nonstop flights each weekday between Dallas and Houston and nine from Boston to Baltimore. But it has to fly the same number of frequencies each day, save for Saturday,because of the current technology, Harvey said.
These new options, which will filter into Southwest through 2018, could boost the company's annual profit by $500 million by 2020 and improve customers' experience in such disparate areas as schedule offerings, shorter connecting times, rebooking options, and ticket sales outside the U.S.
In many respects, the company's commercial business model has outstripped its operations, Kelly told analysts last week. In other words, the current information-technology plumbing doesn't adequately support the airline's commercial efforts, such as selling early boarding or innovating around other ancillary revenue products.
For example, on a route such as Denver to Orlando, which has a mix of nonstop and connecting options, Southwest can vary the prices it charges in Denver and in Orlando for the route. The new system will allow it to manage inventory, not just price, for each origin and destination city. Controlling inventory is one way to make a revenue-management system work better.
"This could be a big deal as more passengers connect, as [Southwest's] network continues to expand," Wolfe Research analyst Hunter Keay wrote in a client note.
The airline will also be able to price its ancillary goods dynamically, a key area of revenue efforts across the industry. And the new IT will allow for automated, mass customer rebookings during times when severe weather or other problems disrupt a lot of flights. Southwest also will have the opportunity to widen its booking window, or alter the number of days of inventory it sells at any given time.
While Southwest certainly won't charge for bags or ticket changes, which would be anathema to its culture, the new technology will allow for assigned seating and the revenue potential that comes with it. So long, cattle call? Not at any time soon is the message Kelly is sending. A bag fee would enrage millions of loyalists. They probably wouldn't be crazy about assigned seats, either.
Kelly said he wants Southwest employees to be "open-minded and innovative," but he cautioned analysts salivating over the prospects of massive new revenues.
"We think we've got a really great brand," Kelly said, "and we want to—I just want to be clear in my messaging with you all that we've got a really good thing here and we need to be really thoughtful about how we tinker with it."
The new technology will invite all sorts of tinkering, and at airlines the siren call of new revenue is hard to resist. It will be critical for Southwest to strike the right balance between its brand and its finances.
(
Corrects dollar amount of Southwest project in second paragraph.
)
Before it's here, it's on the Bloomberg Terminal.
LEARN MORE