Asian Stocks Rebound After Brexit Vote Victory Triggers Selloff
Japan, China rally as investors watch for central bank action

More than $2.5 trillion wiped from global equities on Friday
Asian stocks rebounded from the steepest slump since August after last week's British vote to leave the European Union roiled global markets. Rallies in Japan and China overshadowed declines in other benchmark gauges across the region.
The MSCI Asia Pacific Index rose 0.5 percent to 125.90 as of 4:27 p.m. in Hong Kong, erasing an earlier loss of as much as 0.3 percent. Japan's Topix finished 1.8 percent higher, rebounding from its worst loss since the aftermath of the March 2011 earthquake. The Shanghai Composite Index advanced after Credit Suisse Group AG and Citigroup Inc. advised clients to buy Chinese shares following last week's selloff. Investors are watching for policy action by central banks globally to ease the market turmoil and pump liquidity into financial markets.
"We are in for a volatile period but I don't think it's one way down," said Shane Oliver, head of investment strategy at Sydney-based AMP Capital Investors Ltd., which oversees about $116 billion. "The dust will settle and investors will realize there's a long way to go for all of this and markets will eventually start to grind higher again."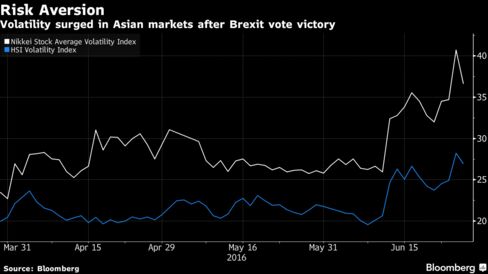 Brexit wiped more than $2.5 trillion from global equity values on Friday. Prime Minister David Cameron resigned without spelling out when the U.K. intends to leave the EU and there were mass defections from Labour Party leader Jeremy Corbyn's shadow cabinet amid calls for his ouster. U.S. Secretary of State John Kerry travels to Brussels and then London on Monday as Nicola Sturgeon, the first minister of Scotland, which voted to remain in the EU, said there's a possibility of a second referendum on independence from the U.K.
Japan Prime Minister Shinzo Abe issued instructions for various measures to stabilize markets, Finance Minister Taro Aso told reporters in Tokyo after a meeting Monday. Abe ordered the Bank of Japan to provide funds to support the financial system, and gave instructions to ensure liquidity, BOJ Deputy Governor Hiroshi Nakaso said. The yen swung between gains and losses, while the British pound plummeted to a 31-year low as investors grapple with unanswered questions on the details of Britain's exit from the EU.
More Referendums
"Investors are looking for further developments in the Brexit aftermath," said Bernard Aw, a strategist at IG Asia Pte in Singapore. "My main worry is related to Brexit, especially on the possibility of more referendums from EU countries. Should such a scenario gain traction, we can expect more risk aversion in global markets."
Japan's Topix index rose Monday as the yen traded at 102.8 a dollar. The yen was closing in on 99 at one point on Friday as investors rushed for the relative safety of Japanese government bonds. Some strategists and investors say the rally in the currency isn't over, with HSBC Holdings Plc and GCI Asset Management Corp. mooting a rise to 95 against the greenback.
Defensive Rally
The rally in Japan was led by so-called defensive shares including drugmakers and food producers. Yamazaki Baking Co. climbed 7.6 percent, Japan Tobacco Inc. rose 5 percent and Astellas Pharma Inc. advanced 6.6 percent.
The fallout from the British vote continued to hit exporters. Toyota Motor Corp. slid 1.7 percent after plunging 8.7 percent on Friday. Mazda Motor Corp. plunged 9.7 percent after Nomura cut its rating on the automaker, citing a slowdown in the European car market and a stronger yen.
The Shanghai Composite Index increased 1.5 percent, with energy and materials companies pacing gains after policy makers said they will reduce overcapacity in the coal and steel industries. China's central bank weakened the daily fixing of the yuan reference rate by the most since August on Monday.
"China-specific companies that are not too related to Brexit, such as the steel and coal sectors, should be beneficiaries," said Hao Hong, chief China strategist at Bocom International Holdings Co. in Hong Kong. "Product prices in the two sectors are already oversold, so any surprise cut in capacity can lead to an increase in prices."
Australia's S&P/ASX 200 Index climbed 0.5 percent at the close. Companies with earnings generated in the U.K. extended Friday's declines. Henderson Group Plc slumped 16 percent and BT Investment Management Ltd. sank 10 percent.
Regional Gauges
New Zealand's S&P/NZX 50 Index gained 0.3 percent, reversing earlier losses of as much as 1.2 percent. South Korea's Kospi index added 0.1 percent, erasing a 1.3 percent drop, Taiwan's Taiex Index fell 0.2 percent and Singapore's Straits Times Index declined 0.1 percent.
The Hang Seng Index retreated 0.2 percent. The city's benchmark slumped 2.9 percent on Friday, its biggest drop since Feb. 11, as HSBC Holdings Plc and Standard Chartered Plc tumbled. Cheung Kong Infrastructure Holdings Ltd., which counts Britain as its second-largest market by revenue, slumped 4.9 percent on Monday. Cathay Pacific Airways Ltd. sank 4 percent as analysts downgraded the stock amid concern earnings would drop.
Futures on the S&P 500 Index dropped 0.4 percent. The U.S. equity benchmark index declined 3.6 percent on Friday, the most since August 2015.
Before it's here, it's on the Bloomberg Terminal.
LEARN MORE