Telefonica Said to Weigh Delay of Unit IPOs on Volatility
Telxius infrastructure IPO was set to be announced next week

Company was giving 'serious consideration' to O2 IPO in U.K.
Telefonica SA is considering delaying the planned initial public offering of its Telxius infrastructure unit and the possible IPO of its U.K. wireless unit O2 because of market volatility after Britain's vote to leave the European Union, according to people with knowledge of the situation.
The Madrid-based telephone company was planning to announce the Telxius IPO next week, said two of the people, who asked not to be named because the plans aren't public. The stock sale was targeted to raise as much as 1.5 billion euros ($1.66 billion), giving the business an equity value of as much as 3.5 billion euros, they said.
The company spoke with advisers on Friday to discuss the way forward, two of the people said. Telefonica is weighing options including delaying the marketing of Telxius by one week in the hope markets will stabilize. It is also considering downsizing the size of the Telxius stake it would list or waiting till summer ends, the people said.
A Telefonica official declined to comment.
The unprecedented decision by U.K. voters to leave the EU sent shockwaves across global financial markets and caused the pound to plummet to its lowest in more than three decades. That hurt big European telecom companies, especially Telefonica, which fell 16 percent -- its worst drop in at least 17 years -- after having its debt-reduction plans roiled by political events for a second time.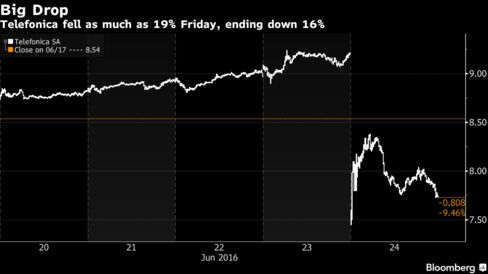 Along with the Telxius IPO, Telefonica had said it was giving "serious consideration" to an IPO of O2. The company originally planned to sell the U.K. wireless unit for 10.25 billion pounds ($14.1 billion) and use some of the money to pay down Telefonica's 52.2 billion euros in total debt, but that deal was blocked by European Union regulators in May.
The company then shifted gears, mapping out a partial sale of both Telxius and O2 to make up some of the difference. Telefonica was considering other options than the IPO for O2, but the choices now look less attractive. Brexit could deteriorate the U.K. wireless unit's value by 20 percent and complicate its restructuring, Kepler Cheuvreux said in an e-mailed note.
Finding a foreign buyer for O2 or listing the unit is now more difficult because of "uncertainty" in the market and with regulators, said Alex Wisch, an analyst at Bloomberg Intelligence in London. The unit's value "is going down as we speak as the pound is falling," Wisch said by phone.
More political hurdles are heading Telefonica's way. Elections in Spain on Sunday could bring the populist Podemos party to power or result in no government being formed. If that happens, the Telxius deal might have to wait until September or even later. But that would put it in the crosshairs of the U.S. election.
"The phone market looks increasingly like the European banking system: schizophrenic regulators, difficult or impossible mergers, access to the capital market far from guaranteed," said Carlo Alberto Carnevale Maffe, a professor of business strategy at Milan's Bocconi University. "Telefonica today needs to 'place' the O2 hot potato, in full volatility of Brexit. Not to mention the situation in Brazil and the risk of elections in Spain."
Debt Rating
Telefonica may need to sell other assets to raise cash and protect its debt rating, said analysts including Andrea Giuricin, a professor at University of Milano-Bicocca who specializes in media and telecommunications.
Telefonica declined to 7.73 euros at the close in Madrid, its lowest since March 2003. That was the second-worst performance of the 22 members of the Stoxx 600 Europe Telecommunications Index, behind Telecom Italia Spa's 17 percent drop.
Before it's here, it's on the Bloomberg Terminal.
LEARN MORE