Spanish, Italian Bonds Tumble as U.K. Vote Punishes Peripherals
Spain-Germany 10-year spread reaches widest during QE era

Investors seek haven assets on risk of disruption to EU
Spanish and Italian bonds declined after Britain chose to quit the European Union, triggering a worldwide selloff in lower-rated debt and equities and a flight to haven investments such as German bunds.
The yield difference, or spread, between Spain's 10-year bonds and similar-maturity German government bonds widened to the highest level since before the European Central Bank began its bond-buying program in March 2015. Germany's bunds climbed, pushing 10-year yields to a record low, as investors sought the relative safety of Europe's benchmark sovereign debt.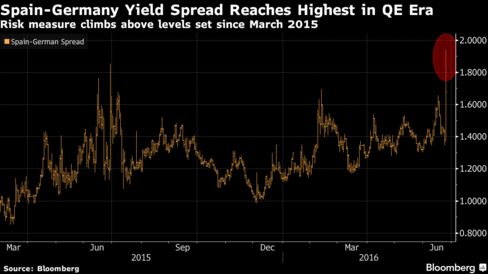 The shock across markets came one day after an index of odds compiled by Oddschecker put the probability of a Brexit at only 23 percent. Sovereign securities from lower-rated countries in the euro region dropped as investors flee riskier assets and amid speculation Britain's decision will spark economic and political turmoil across the euro area. Prime Minister David Cameron, a staunch supporter to remain in the bloc, said he will resign.
Markets were "complacent" after polls indicated the referendum's outcome would be close, said Christian Lenk, a fixed-income strategist at DZ Bank AG in Frankfurt. "The outcome was close but quite clear. Now we're simply seeing a repricing, with markets in a clear risk-off mode."
The final tally showed voters backed "Leave" by 52 percent to 48 percent.
Securities from peripheral nations are also being hit due to their credit risk profiles and questions over the future of the EU project, Lenk said. "In a shock event like this, economic fundamentals do not play the major role."
Market Shock
Declines in euro-region debt may be checked by quantitative-easing purchases from the ECB, which said Thursday it stands ready to provide additional liquidity in euro and foreign currencies, if needed, to quell market turmoil. The Bank of Spain is working within that framework, an official at the Spanish central bank said Friday, declining further comment.
The yield on Spanish 10-year bonds climbed 17 basis points, or 0.17 percentage point, to 1.63 percent as of the 5 p.m. London close. Earlier it reached 1.83 percent, the highest since Feb. 11. The 1.95 percent security due in April 2026 fell 1.53, or 15.30 euros per 1,000-euro ($1,115) face amount, to 102.87.
The yield spread to similar-maturity bunds widened 31 basis points to 1.68 percentage points, the highest since March 2014 on a closing basis.
The yield on similar-maturity Portuguese debt climbed 27 basis points to 3.36 percent.
German 10-year bond yields fell 14 basis points to minus 0.05 percent, and earlier touched a record-low minus 0.17 percent.
Before it's here, it's on the Bloomberg Terminal.
LEARN MORE