Brexit Spurred a Bunch Of VaR-y Rare Market Gyrations
VaR shock anyone?
'Sigma-tized' might be one way of describing Friday's markets in the aftermath of Britain's historic vote to leave the European Union.
Currencies, stocks, commodities, equity indexes, stock futures, and bonds — no asset class has been immune from the historically massive swings seen in the wake of the referendum.
Statistical theory holds that 68 percent of all observations in a normal distribution lie within one standard deviation of the average of that sample. Events that lie on the fringes of this distribution are defined by a number of sigmas, which denote the increasing improbability of this outcome being realized.
Such moves can be important as they have an unnerving tendency to upend financial risk models based on historical measures of market volatility. Years of low interest rates and suppressed volatility are generally thought to have had a calming effect on the Value-at-Risk (VaR) models used by large banks, for instance, setting the stage for forced selling today as traders are forced to cut positions to match their risk profile.
Taking some of the potential pressure off is the fact that many banks have bulked up their VaR models in recent years using stressed versions of the risk management tools and moving further away from over-reliance on normal distributions of probabilities that have been repeatedly criticized for their inability to take into account rarer, 'tail risk' events.

Today has certainly been abnormal. Below is a smattering of charts that show some of the craziest moves seen as market participants digest the results of the British referendum. The lines on each chart depict thresholds for five- and ten-sigma events.
At its nadir, the pound's retreat versus the U.S. dollar was over 18 standard deviations below its historical average.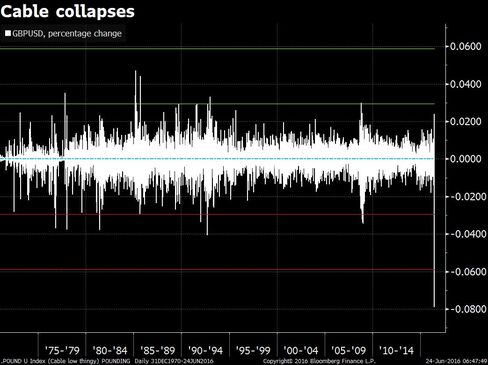 The unprecedented sell-off in European banks was on the verge of a 10-sigma event: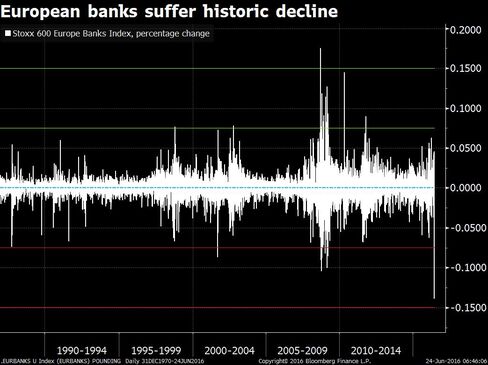 Gold is well off its earlier highs, but at its peak, bullion's advance was nearly six standard deviations above its historical daily move, the most since the sessions following the bankruptcy of Lehman Brothers in 2008.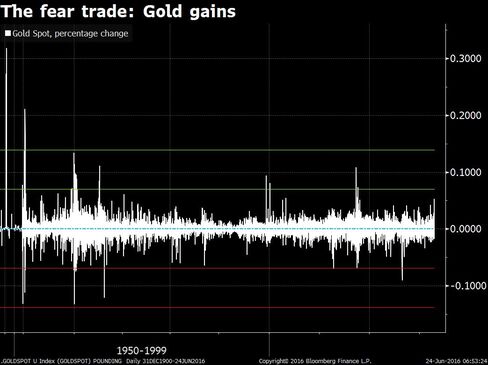 Groupe Eurotunnel SE, which owns a rail connecting the U.K. and France, has pared more than half its losses. At its trough, the sell-off constituted a more than 10-sigma event.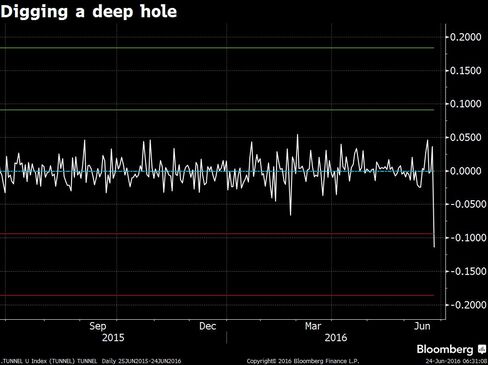 The spike in front-month implied volatility futures contracts, which reached a crescendo shortly after midnight Eastern Time, was a five-sigma event: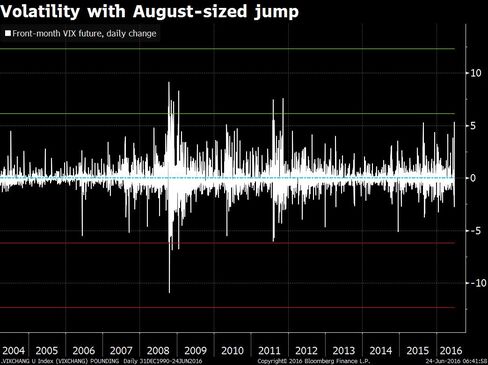 German bunds keep plumbing new depths. Shortly after the open, the 10-year yield hit a low of -0.169 percent. At the time, this was a five-sigma event.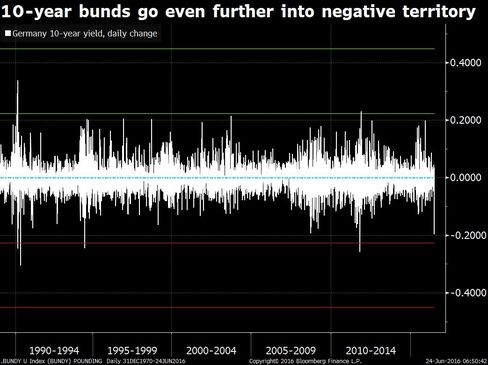 It's no Black Monday, but at their lows of the overnight session, the decline in front-month S&P 500 futures contracts constituted a four-sigma event.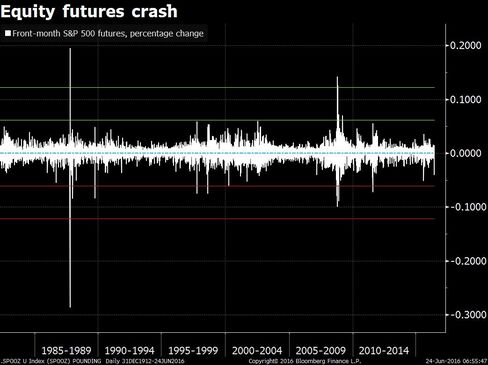 Before it's here, it's on the Bloomberg Terminal.
LEARN MORE