Maersk Chairman Says Strategic Options Include Company Split
A.P. Moeller-Maersk A/S replaced its chief executive officer as the owner of the world's biggest shipping company explores a number of "strategic options" that may include splitting up its operations.
"Our business units are self-running so now it's time to see where we go next," Chairman Michael Pram Rasmussen said by phone. "We want to review whether the group should stay as it is, or whether it should be split up."
Maersk named Soren Skou, 51, as its new CEO, to replace Nils Smedegaard Andersen, 57, starting July 1. "It's a decision that the board has taken, not one that Nils has taken," Rasmussen said. "Nils understands the decision, so it's been calm and orderly."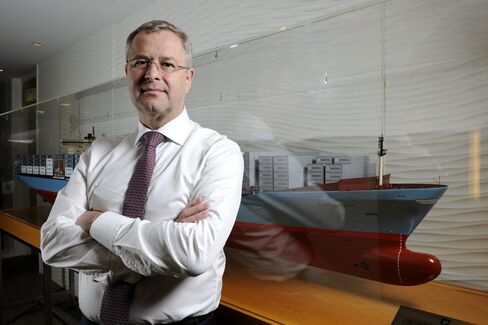 The chairman said that the steps the company is now "considering could potentially be major changes." Maersk hasn't hired any banks to advise it through the process. "It's something we're looking at ourselves," he said. "We're looking at the group's structure and will see if, for example, some units will be in a better position if they're standing outside the group."
For now, Skou will continue to run Maersk Line, the company's shipping transport unit. Rasmussen said the board isn't planning to hire a replacement. However, it's "reviewing whether the group CEO position is something that the company will need, going forward," he said.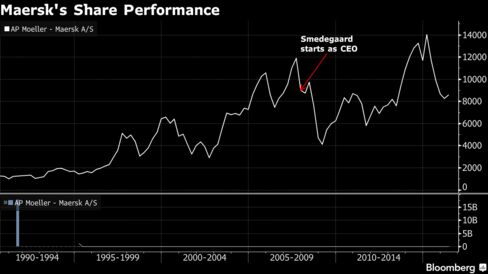 Shares in Maersk added to gains following the announcement, rising as much as 12 percent to 9,130 kroner on the news. The shares traded at 9,000 kroner as of 3:54 p.m. in Copenhagen.
"It makes sense to streamline operations and sell non-core assets, making it easier for investors to see what they are buying," said Espen Landmark Fjermestad, an analyst at Fearnley Securities. "Asset values today are low, but given the current trading of the share, sales could still unlock value."
The prospect of a structural review is what's driving the share price more than the CEO change, he said. Nonetheless, "the new CEO has shown what he's capable of at Maersk Line," Fjermestad said. "So it's a man with an impressive track record."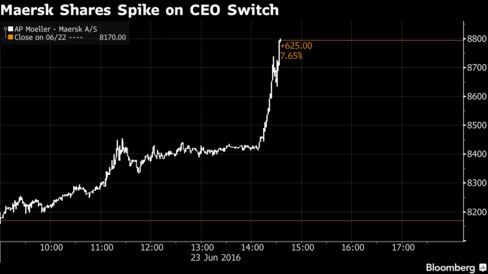 "The fast-paced changes of this world demand that we can adapt quickly, easily and at a minimal cost while retaining the focus on each business unit," Skou said in the statement. "Our future set-up must effectively respond to these challenges."
Before it's here, it's on the Bloomberg Terminal.
LEARN MORE