Macy's CEO Terry Lundgren to Pass Reins to Deputy Next Year
Designated CEO Jeff Gennette ran West Coast operations

Department-store chain plans to 'reset' its business model
Macy's Inc. Chief Executive Officer Terry Lundgren will pass the job to President Jeff Gennette in the first quarter of 2017, entrusting his top deputy with the task of turning around the largest department-store company in the U.S.
Lundgren, who has served as CEO since 2003, will remain executive chairman after the transition, the Cincinnati-based company said in a statement Thursday. Investors applauded the move, sending the shares up as much as 4.9 percent in New York.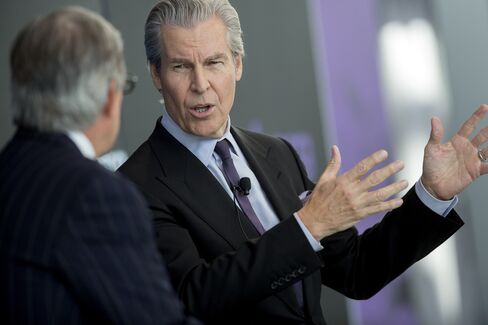 The handoff signals that Macy's will pursue a more dramatic overhaul of its business, which dates back to 1858. In the face of declining sales and profit, Lundgren has been cutting costs and closing stores, but a turnaround has been elusive. Macy's also is suffering from slow mall traffic and the strong dollar, which has deterred foreign tourists from visiting U.S. stores. On top of that, investors have called on the company to wring more money from its real estate portfolio.
"Now is the time to reset our business model," Lundgren, 64, said in the statement. "Our company must and will change in response to the profound secular forces that are driving consumer spending."
Pressure on Macy's to do more with its properties may have sped up the CEO transition, which wasn't expected to come this quickly, said Poonam Goyal, an analyst at Bloomberg Intelligence. Other chains, such as Sears Holdings Corp. and Darden Restaurants Inc., have used their land holdings to generate cash by forming real estate investment trusts.
"It was very unexpected," Goyal said of the CEO change. "It probably has to do with activist investors wanting more monetization."
Macy's shares rose as high as $34.41 after the announcement. The stock had dropped 6.2 percent this year through Wednesday, dogged by concerns about the company's slump.
Flagship Stores
The leadership change could signal the company is closer to a plan for its historic New York store in Herald Square, Goyal said. The company rejected the idea of forming a REIT last year, but it has been looking to sell portions of its flagship locations in Manhattan, San Francisco, Chicago and Minneapolis, as well as its mall-based properties.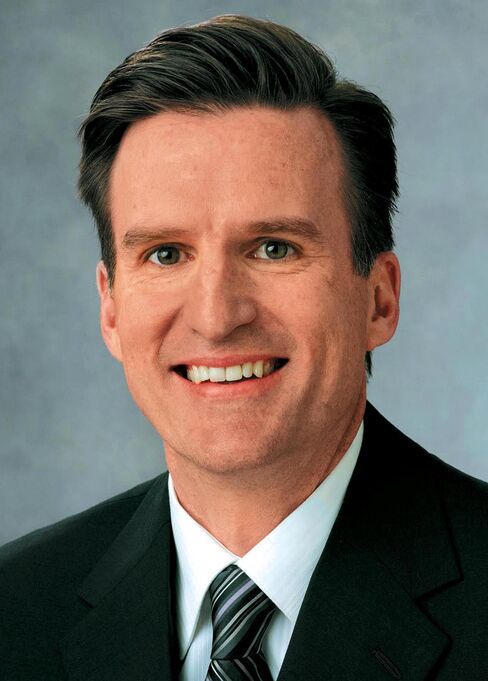 Gennette, who was named Macy's president in 2014, also will be joining the board immediately. That brings the size of the body to 14 members. Gennette, 55, previously served as the company's chief merchandising officer and ran Macy's West in San Francisco. The San Diego native is a graduate of Stanford University.
"There is no doubt that Macy's Inc. will need to be a significantly different retailer in the future in the way we operate and approach the marketplace," Gennette said. "But we also must continue to tackle our immediate priorities with vigor and discipline."
Real Estate Hire
In April, Macy's appointed Douglas Sesler as a senior-level real estate executive and said it's been evaluating proposals for joint ventures involving flagship and mall-based stores. The company also added Four Corners Property Trust Inc. CEO Bill Lenehan to its board, tapping a real estate expert to help the retailer determine what to do with its properties.
The real estate firm Tishman Speyer is interested in taking stakes in the flagship locations, but Macy's hasn't said what it might do with its iconic Manhattan store. The company could sell the property outright and then lease back the space, Goyal said. It also could enter into a joint venture or refinance the store, with Macy's as the mortgage holder. The latter move would be similar to the deal Hudson's Bay Co. made in 2014 for the landmark Saks Fifth Avenue building, which valued the property at $3.7 billion.
The idea would be to let Macy's focus on retailing, rather than worrying about real estate matters, Goyal said.
"Why do you need to be a real estate company?" she said. "Why can't you just do what you do best, which is take the space and run it."
Before it's here, it's on the Bloomberg Terminal.
LEARN MORE