BlackBerry Rises on Profit Forecast After More Software Gains
2017 loss will be 15 cents a share; analysts expected 31 cents

Software revenue, a key focus, rose 21% from a year earlier
BlackBerry Ltd. rose as much as 4.6 percent after forecasting better-than-expected profit and insisting there was a way to make its ever-shrinking phone business profitable again.
Key Points
Fiscal-year adjusted loss will be 15 cents a share, compared with an estimated loss by analysts of 31 cents.
Fiscal first-quarter earnings per share, excluding some items, broke even, compared with analysts' average estimate of a loss of 7 cents.
Revenue in the quarter was $424 million, including software and services revenue of $166 million that was 21 percent higher than the same period last year ($137 million). Analysts had estimated total revenue of $471 million.
BlackBerry changed its reporting structure to include revenue from both smartphone sales and licensing deals. The new unit -- "mobility solutions" -- accounted for 36 percent of revenue. The company sold 500,000 devices in the quarter, compared with 600,000 in the previous quarter.
Shares gained 2.4 percent to $6.90 at 9:57 a.m., after reaching as high as $7.05 in New York in Thursday.


The Big Picture
Chief Executive Officer John Chen is pushing to increase software sales while finding a way to wring profitability from the company's shrinking smartphone division. Chen has said BlackBerry's first Android phone, the keyboard-equipped Priv, didn't sell as well as he had hoped because it was too expensive. While the company works on two more Android phones, including a cheaper option, Chen said he would slot some software sales into the smartphone unit. This would provide a way for that unit to achieve profitability even as the company sells fewer phones.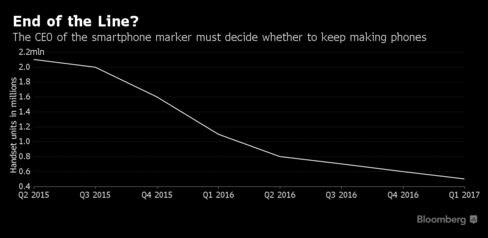 The Detail
A net loss in the quarter of $670 million reflected a $501 million impairment charge, a $57 million goodwill impairment charge and a $41 million writedown of inventory and other charges.
BlackBerry projected fiscal 2017 software and services revenue growth of 30 percent.
Service-access fee revenue will decline 20 percent in the second quarter, Chief Financial Officer James Yersh said during an earnings call Thursday.
The company closed the quarter with cash and cash equivalents of $2.5 billion.
Street Takeaways
If Chen can't restore profitability to the handset unit, it's "got to go," said John Butler, an analyst with Bloomberg Intelligence. "This is a company who's in the midst of a product transition right now. The device business is clearly not working. You really need that one device that resonates with consumers and does well."
"BlackBerry reported weak top-line numbers as both smartphone and service-access fee revenues were weaker than expected, and the company recorded significant write-downs and impairments," JPMorgan Chase & Co. analyst Rod Hall said in a note. "However, software revenue was better than expected, and the company provided increased transparency and a better-than-expected FY'17 EPS guide."
Before it's here, it's on the Bloomberg Terminal.
LEARN MORE