Oil Falls After U.S. Crude Stockpiles Shrink Less Than Expected
Nationwide crude stocks fell by 917,000 barrels last week

Vote to take place Thursday on whether U.K. will leave the EU
Oil declined for a second day in New York after U.S. government data showed crude stockpiles dropped less than expected last week amid a jump in imports.
Futures dropped 1.4 percent in New York after rising above $50 a barrel earlier. U.S. crude imports climbed to the highest level since December 2012, and nationwide crude inventories shrank by 917,000 barrels last week, according to the U.S. Energy Information Administration. A vote to determine U.K.'s membership in the European Union will take place on Thursday with the latest two polls showing a narrow lead for "Leave."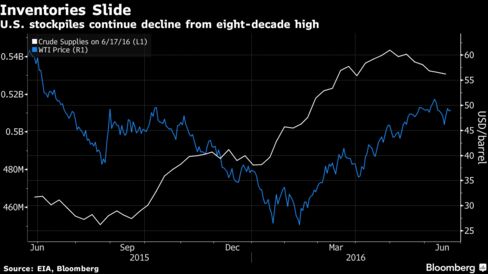 Crude stockpiles declined to 530.6 million barrels in the week ended June 17, according to the EIA report. Analysts surveyed by Bloomberg ahead of the release had expected a drop of 1.5 million barrels, while the American Petroleum Institute had reported a draw of 5.2 million barrels. U.S. crude imports climbed by 817,000 barrels a day to 8.44 million last week. Shipments from Saudi Arabia increased by 59 percent from the previous week to 1.49 million barrels a day, preliminary data show.
"Expectations got a little inflated because of the number that was posted by the API. We saw a substantial rally on that report and it got reversed here," John Kilduff, partner at Again Capital LLC, a New York hedge fund focused on energy, said by telephone. The rise in U.S. imports shows "a wave of crude oil coming back to the United States potentially swamping the market again. It's a very bearish element of the report."
Gasoline stockpiles rose by 627,000 barrels to 237.6 million barrels, despite a 1.47 million barrel draw reported by the API. Consumption of the motor fuel rose to a record 9.72 million barrels a day averaged over the four weeks ended June 17.
Brexit Vote
West Texas Intermediate for August delivery declined by 72 cents to settle at $49.13 on the New York Mercantile Exchange, after earlier rising to as high as $50.54 a barrel. The July contract expired Tuesday after falling 52 cents to $48.85 a barrel.
Brent for August settlement dropped 74 cents, or 1.5 percent, to end the session at $49.88 a barrel on the London-based ICE Futures Europe exchange, after earlier gaining as much as 1.2 percent ahead of the EIA report.
For a story about how oil producers are collaborating to reduce costs, click here.
Crude in New York has advanced more than 85 percent from the lowest level in 12 years in February as disruptions from Nigeria to Canada and falling production in the U.S. ease a global surplus. Prices fluctuated in the past week amid turmoil in global markets due to uncertainty about the U.K. referendum on European Union membership. An online survey by TNS as well as an earlier poll conducted June 20-22 by Opinium showed a narrow lead for "Leave."
For the rest of this week, the oil market's "focus will be on what is happening with the United Kingdom," Michael Wittner, the New York-based head of oil-market research at Societe Generale SA, said by telephone. "It's still really about Brexit and swings in risk appetite and not really about the fundamentals."
Oil-market news:
OPEC said its oil revenue plunged by $438 billion to a 10-year low last year, as an increase in export volumes failed to compensate for the collapse in prices.
Nigerian militants say they "don't remember" any cease-fire pact, according to a Twitter post on Tuesday. Nigeria's government also said it was "not aware" of a cease-fire after a report from Lagos-based newspaper ThisDay on Tuesday indicated a 30-day ceasefire had been reached.
The decline in U.S. crude production is coming to an end, yet the tightening of global markets will boost prices to the "mid $50s" by year-end, Vitol Group CEO Ian Taylor told reporters in London.
A sudden regulatory shift in Alberta threatens to curb Canadian energy asset deals.
Before it's here, it's on the Bloomberg Terminal.
LEARN MORE