Tesla Takeover of SolarCity Not a 'No-Brainer' for All Investors
Oppenheimer analyst Colin Rusch downgrades Tesla to perform

Musk businesses already share mission, investors, leadership
Elon Musk called the proposed marriage of Tesla Motors Inc. and SolarCity Corp. a "no brainer," saying his $2.86 billion plan to combine the companies would benefit both.
Tesla investors didn't seem so sure. While SolarCity shares rose 16 percent Wednesday in trading before U.S. exchanges opened, Tesla fell 10 percent.
Oppenheimer & Co. analysts including Colin Rusch downgraded Tesla to perform from outperform in a research note published late Tuesday, saying they expect "a robust shareholder fight over this acquisition centered on corporate governance."
"We believe investors are likely to view this transaction as a bailout for SCTY and a distraction to Tesla's own production hurdles," said Rusch in the note.
Credit Suisse Group AG analysts including Patrick Jobin said in a separate note that they expect "resistance from Tesla shareholders" and warned of "many corporate governance challenges."
Listen to Tesla's Wednesday conference call on LIVE<GO>.
"Investors expect Tesla to keep all its focus on completing the gigafactory and on quickly ramping up production of Model 3 in 2018," said Salim Morsy, an analyst with Bloomberg New Energy Finance. "Both of these goals are existential for Tesla. A SolarCity acquisition doesn't help execute these critical milestones."
Musk -- who is chief executive officer of Tesla, chairman of solar-panel maker SolarCity and the largest shareholder of each -- was upbeat. "In my personal opinion, this is obviously something that should happen," the billionaire said on a conference call Tuesday.
Tesla plans to hold a conference at 7:30 a.m. New York time to discuss the rationale surrounding the offer to acquire SolarCity.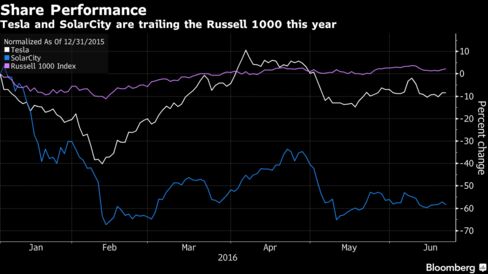 Tesla announced its bid for SolarCity in a blog post, saying the acquisition would "complete the picture." The move comes as Tesla prepares for production of the Model 3, its more affordable electric car late next year and completes construction of its battery-manufacturing gigafactory east of Reno, Nevada.
If the deal is approved, SolarCity would become a part of Tesla. It's already part of the family: SolarCity CEO Lyndon Rive and co-founder and Chief Technology Officer Peter Rive are Musk's first cousins. The idea for SolarCity was hatched during a trip the three made to the Burning Man arts festival in the Nevada desert over a decade ago.
Related: In SolarCity Bid, Tesla's Musk Targets Customer Who Wants It All
According to Tesla, the all-stock deal is worth $26.50 to $28.50 for each SolarCity share. That calculates to a premium of as much as 35 percent from Tuesday's closing price. The average 12-month price target among analysts surveyed by Bloomberg is $29.82. SolarCity rose 16 percent to $24.61 and Tesla sank 10 percent to $196.85 at 6:20 a.m. New York time.
'Room for a Deal'
"It's clearly not a 'done deal,' but rather just an offer for now," said Pavel Molchanov, an analyst at Raymond James. "I think there is room for a deal, but likely at a higher level, maybe in the $30s."
With 100.2 million SolarCity shares outstanding, the proposal is worth as much as $2.86 billion. Including net debt, the deal values the company at about $5.7 billion, according to data compiled by Bloomberg.
Tesla is being much more generous than other acquirers in the industry have been. The bid values SolarCity at about 12.6 times revenue, according to data compiled by Bloomberg, while buyers over the past five years have agreed to pay an average of 5.7 times sales for alternative-energy companies. The data looked at deals valued at $100 million or more in areas such as solar, wind and waterpower.
Musk said he and Antonio Gracias -- a member of both boards -- would recuse themselves from voting on the takeover offer. JB Straubel, Tesla's CTO, is also a SolarCity director.
Tesla shareholders will likely look askance at taking on more debt by combining the money-losing companies, said Morsy, the BNEF analyst.
"The company just raised $1.4 billion from an equity issuance in May to finance an accelerated production ramp of Model 3," he said in an e-mail. "Investors will have trouble looking past the $3.2 billion in debt that Tesla moves on to its own balance sheet for a SolarCity enterprise value of just $5.8 billion."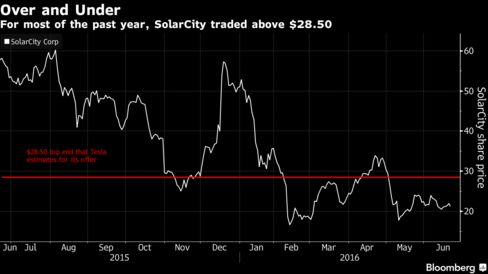 Musk owns 22 percent of SolarCity and 21 percent of Tesla, the youngest and smallest publicly held U.S. automaker. The two companies work closely together: SolarCity picked batteries made by Tesla to provide 13 megawatts of electric storage for an array of solar panels to be built on the Hawaiian island of Kauai.
"Tesla customers can drive clean cars and they can use our battery packs to help consume energy more efficiently, but they still need access to the most sustainable energy source that's available: the sun," Musk said in the blog post.
"Most of our customers have an interest in solar," he said on the conference call. "But a small percentage actually have it."
Before it's here, it's on the Bloomberg Terminal.
LEARN MORE