Hedge Funds Turn Most Bullish on Russian Ruble Since 2013: Chart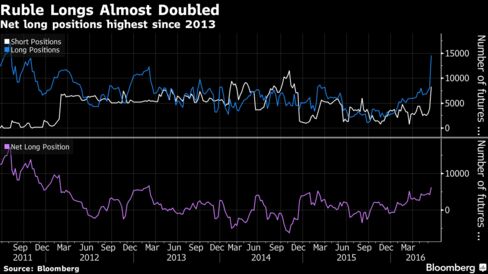 Hedge funds boosted bullish bets on the ruble before the Federal Reserve meeting last week and after Russia's central bank resumed monetary easing, data from the U.S. Commodity Futures Trading Commission show. Speculators increased their long positions to 14,538 futures in the week ended June 14 from 8,086 contracts a week earlier. While they also doubled bets against the ruble, their net position representing the difference between the longs and the shorts reached the highest since February 2013.
Before it's here, it's on the Bloomberg Terminal.
LEARN MORE