Rio Tinto Unit Leads Mining Stock Gains on Push for Gobi Riches
Turquoise Hill soars this week amid Rio Tinto stake rumors

'A lot of people' have interest, miner's CEO says in interview
The best bet among Americas mining stocks this week is the owner of a giant copper deposit in the Gobi Desert, a sign the industry is entering a new phase after years of cutbacks.
Turquoise Hill Resources Ltd. surged as much as 30 percent since Monday, when reports emerged that its controlling shareholder Rio Tinto Group is looking into taking the Vancouver-based company private by increasing its stake and bringing in a partner. Goldman Sachs Group Inc. was hired to advise on the proposal, a person with knowledge of the matter said.
An intense phase of spending cuts amid plunging prices has left producers grappling for growth prospects as they look ahead to a price upswing. Turquoise Hill's Oyu Tolgoi in Mongolia looms as one of the answers for Rio Tinto and any would-be partner as it embarks on an expansion that will make it the world's third-largest copper mine.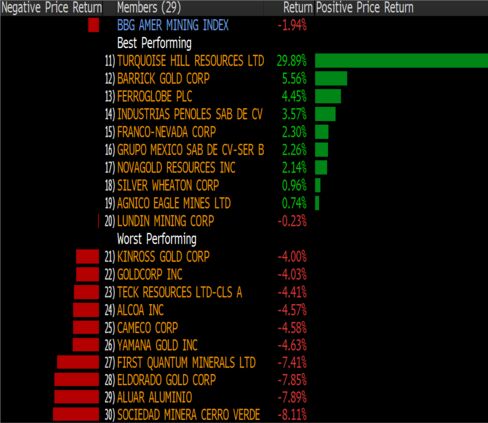 "It's getting harder and harder to find large deposits with higher grades," Chief Executive Officer Jeff Tygesen said in an interview to appear on Bloomberg TV Canada Friday, declining to comment directly on the buyback proposal. "A lot of smelters would like and want Oyu Tolgoi concentrate because it's high grade and very clean."
The company is banking on a recovery in copper as shortages emerge as early as 2018, pushing ahead with a $5.3 billion underground expansion that will more than double annual output to more than 500,000 metric tons by 2027. It's already receiving orders for that underground production in 2019 and 2020, Tygesen said. He expects the company will go ahead with the new mine regardless of whether ownership changes take place.
Turquoise Hill's gain this week is the biggest in the Bloomberg Americas Mining Index. At 1:23 p.m. in New York, the five-day advance had pared to 16 percent. Rio Tinto declined to comment when asked if it intended to increase its 51 percent stake in the company.
Turquoise Hill owns 66 percent of the deposit that's located about 50 miles (80 kilometers) from the border with top consumer China.
While Tygesen also declined to comment on whether a Chinese company would be interested in buying a portion of the company, he did say: "I can understand why there is a lot of excitement in the market today. A lot of people have interest in Turquoise Hill and Oyu Tolgoi."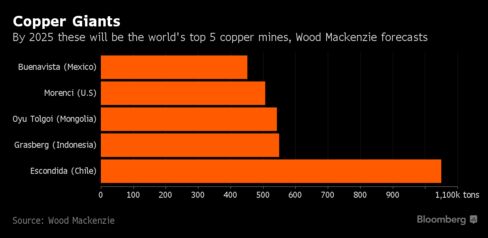 The machinations at Oyu Tolgoi may signal where the industry is going. As the big miners look to a rebound in commodities, Rio and rival BHP Billiton Ltd. have identified copper as a key focus for growth, flagging the metal as a priority by examining potential deals and allocating project spending. Prices of the metal used in pipes and wiring tumbled the most since the financial crisis last year amid slowing demand from top consumer China.
Discovered 15 years ago, Oyu Tolgoi has faced political challenges. The development of the underground mining follows years of negotiations with the Mongolian government, culminating in a financing deal signed in December.
The government owns 34 percent and there are additional risks associated with a change in control of the company. While the country heads into a national election on June 29, Tygesen said he isn't concerned about political risk.
"There's roughly 12 to 14 political parties within Mongolia but the two strong parties really support Oyu Tolgoi and see the benefits not just for the workforce but the country," he said.
Political resistance to the expansion has faded and hasn't featured much in the campaign, according to BMO Capital Markets. Still, any change to the ownership of the mine would require the Mongolian government's consent.
"If Rio decides to sell a stake, or if a third party was to take out some of the minority stakes, then the government would probably have to be on board with that," Aleksandra Bukacheva, an analyst with BMO, said by phone from Toronto.
(A previous version of this story corrected government stake in 11th paragraph.)
Before it's here, it's on the Bloomberg Terminal.
LEARN MORE