Rents Boost CPI, Jobless Claims Rise: U.S. Economic Takeaways
Shelter costs increased in May by most since February 2007

Unemployment benefit filings boosted by jump in California
What you need to know about Thursday's U.S. economic data:
CONSUMER-PRICE INDEX (MAY)
Rose 0.2 percent (forecast was 0.3 percent) after 0.4 percent gain
Core CPI, which excludes food and fuel, also climbed 0.2 percent for a second month
Increase in core driven by biggest advance in shelter costs, up 0.4 percent, since February 2007
CPI rose 1 percent in last 12 months; core CPI up 2.2 percent
The Takeaway: Inflation is creeping higher, but the primary source is rising shelter costs. Over the past 12 months, 60 percent of the increase in core consumer prices could be traced back to rents, lodging costs and rental equivalent of owner-occupied houses, the Labor Department said. While Federal Reserve policy makers expect inflation to move toward their goal in the medium term, any meaningful progress needs to include broad-based gains. In that respect, the CPI report showed few signs of building price pressures as the costs of vehicles, airfares, furniture and televisions declined from a month earlier. Another category that was propping up the core is also looking less promising now: Some health care components from the producer price index that feed into the Fed's preferred gauge of inflation actually declined in May.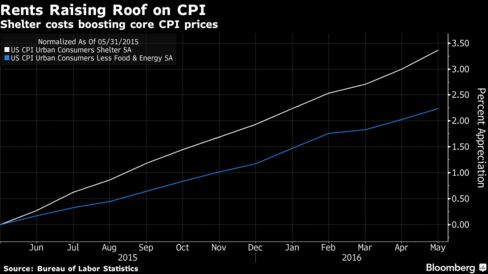 JOBLESS CLAIMS (WEEK ENDED JUNE 11)
Rose by 13,000 to 277,000 (forecast was 270,000)
Four-week average eased to 269,250 from 269,500
Claims in California increased 19,470 (unadjusted)
The Takeaway: Jobless claims are still firmly in territory that's consistent with a healthy labor market, despite the weekly ups and downs. The larger-than-forecast gain last week was due to a jump in California, which probably reflected more applications related to summer breaks at schools. Economists have said it would take a sustained move higher in unemployment applications -- to around 300,000 or more -- before they'd get concerned that conditions are starting to deteriorate. Claims provide a welcome counter to recent weak jobs reports, which have prompted concern about the status of the labor market. "The message from claims continues to be that the April/May payrolls data greatly exaggerated the extent to which the trend in employment growth is weakening," Jim O'Sullivan, chief U.S. economist at High Frequency Economics Ltd., wrote in a note to clients.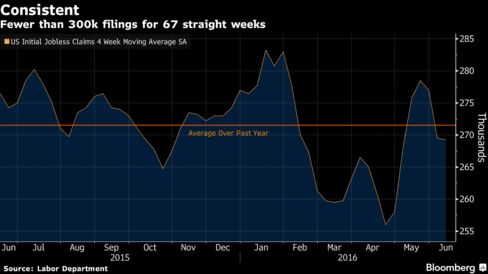 HOMEBUILDER SENTIMENT (JUNE)
Builder sentiment index rose to 60 (forecast was 59) from 58
Measure of six-month outlook increased to 70, highest since October, from 65
Gauge of buyer traffic advanced to 47, strongest in seven months, from 44
Current-sales measure rose to 64 from 63
The Takeaway: Construction companies won't break ground on new homes unless they're confident they can sell them, so the gain in builder sentiment is a good sign for the residential real-estate recovery. It may presage a pickup in housing starts over the coming months, which would add much-needed inventory to the pool of available homes. An increase in the measure of prospective-buyer traffic shows Americans are interested, especially with borrowing costs so low. While builders remain concerned about a shortage of viable lots and labor, a stronger housing market would provide a welcome lift to economic growth.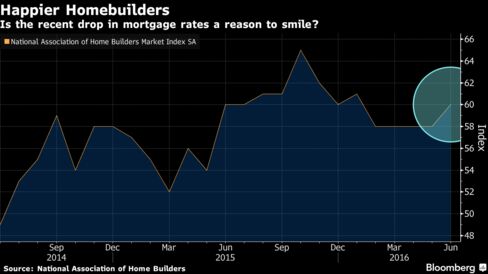 BLOOMBERG CONSUMER COMFORT
June economic expectations fell to 41, weakest since October 2013, from 44.5
Weekly comfort index dropped to 42.1 in period ended June 12 from 43.5
Buying-climate gauge declined to 38 last week, lowest since mid-December, from 40.3
Weekly measure of personal finances decreased to 55.8 from 57.4
The Takeaway: Americans' fragile views on the economic outlook and sour assessments of the buying climate threaten to spoil the buoyant household spending figures after a slow start to the year. Consumers may need to see hiring regain momentum and a bigger jump in wages in order to ramp up their purchases, which make up the bulk of the economy.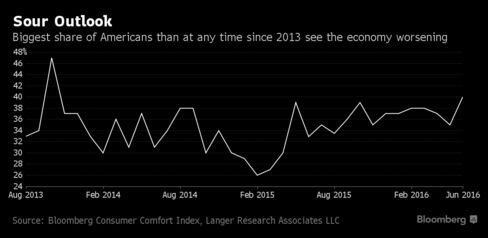 Before it's here, it's on the Bloomberg Terminal.
LEARN MORE