Mutual fund subsidiary assets doubled in 12 months to March

CSRC regulations target funds' role as shadow banking channel
China's asset managers are preparing for a regulatory crackdown in an area of their business that's become a dark alleyway for shadow financing.
Subsidiaries of mutual funds need to adjust leverage ratios for investing in equities, fixed income and non-standardized products, according to a document sent to firms in May that doesn't say when the rules will be enforced. Once the limits on risk-taking come into effect, units of public mutual funds will need to hold around $300 million in net capital for every $1 billion under management, consulting firm Z-Ben Advisors Ltd. estimates.
Because these subsidiaries are allowed to invest in assets that are off limits to their parents, including high-yield debt, they have been able to grow by receiving loans in exchange for taking riskier investments off commercial banks' books. The curbs could send ripples through markets because Z-Ben estimates the units managed 9.8 trillion yuan ($1.5 trillion) at the end of March, more than doubling from a year earlier.
"There may be some hefty cash calls for some subsidiaries of these fund companies," said Constance Tan, Shanghai-based analyst at Z-Ben. "Because the regulator has already released the rules to fund management companies, we believe the enforcement will happen soon."
Deleveraging Concern
The China Securities Regulatory Commission's consultation document distributed last month stipulates that mutual funds can borrow $3 for every $1 of capital when investing in fixed income, futures and non-standardized products. For equity investments, they can leverage $1 for each $1 of funding. The rules state that net capital should be no less than 40 percent of net assets, with different weightings given to safer securities, the documents show. The CSRC has not replied to two e-mails.
Goldman Sachs Group Inc. estimates so-called circular financing arrangements, in which banks lend to non-bank financial institutions that take risky assets off their hands, meant China created 24.6 trillion yuan in total new credit in 2015, more than the 19 trillion yuan official estimate.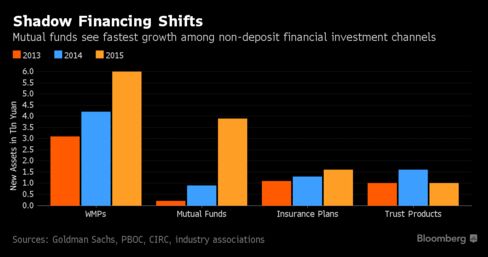 Total banking assets stood at 296 percent of gross domestic product in 2015 and shadow lending counts for 23 percent of those assets, up from 3.8 percent in 2007, Barclays Plc estimated in a June 3 report. Fund subsidiaries have taken over from trust companies as a tool for banks to circumvent regulations, disguise lending and get higher returns amid the weakest economic expansion since the 1990s, according to Sanford C. Bernstein & Co.
"There's always some kind of 'innovation' by banks to generate profits and regulators always take some time to react to any loophole," said Wei Hou, a Sanford Bernstein analyst in Hong Kong.
Steve Wang, head of research at Reorient Financial Markets Ltd. in Hong Kong, said the rules won't likely be announced in a way that could threaten market stability.
Regulators "will try to figure out who has what and might reprimand some of them who are out of whack," he said. Should the rules be implemented too quickly, "that will create a market downturn right away," Wang added. "They are not going to stab their own foot."
The market is concerned the crackdown will spur deleveraging, Guotai Junan Securities Co. wrote in a May 19 report. The yield on one-year AA rated corporate bonds has climbed 67 basis points to 3.91 percent since touching a five-year low of 3.24 percent on March 24, Chinabond data show. The Shanghai three-month interbank offered rate rose 16 basis points to 2.95 percent from a 2010 low in March.
Mutual Funds
The top 10 mutual fund subsidiaries include those affiliated with major financial market players such as China Minsheng Banking Corp., China Merchants Bank Co. and China Construction Bank Corp., Z-Ben data showed. Ping An-UOB Fund Management Co.'s subsidiary ranked top with assets at least quadrupling in the first quarter from the previous three months to 840.7 billion yuan.
"The regulatory scrutiny of the channel is negative to the bond market in the short term," said Xu Hanfei, a fixed-income analyst at Guotai Junan in Shanghai. "Some of the high-yielding assets' risks are rising, as investors who hold them will be forced to sell."
Before it's here, it's on the Bloomberg Terminal.
LEARN MORE