Brazil's Fiscal Accounts Were a Nasty Surprise to Temer's Team
Interim president speaks to Folha newspaper about first month

Petrobras, Eletrobras found "broken" by acting administration
Brazil's fiscal accounts were in worse shape than initially thought after the suspension of Dilma Rousseff, underscoring the challenge facing the country's new economic team, acting President Michel Temer said.
"It was surprising, in a negative way, what we encountered," Temer told the Folha de S. Paulo newspaper in an interview published Saturday on its website. "The fiscal accounts were worse than we imagined, Petrobras was broken, the Postal Office broken, Eletrobras broken, and I still have faced an aggressive campaign against me."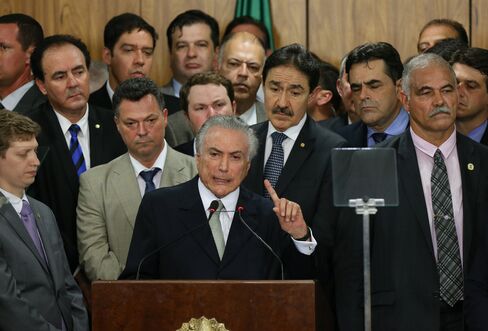 The forecast for this year's budget gap, revised by Finance Minister Henrique Meirelles to a record 170 billion reais ($49.7 billion), forced Temer's team to propose a cap on the increase in spending for next year to control Brazil's growing debt. The spending bill is expected to be presented at Congress next week. The size of the deficit was the worst surprise Temer found when he took over, he told Folha.
The interview marked Temer's first month in office, a period he said "has been a war," albeit one successful in restoring relationships with Congress and re-establishing investors' confidence in Latin America's largest economy. His first days in charge were also marked by crisis as two ministers left their posts after allegations that they planned to thwart Brazil's long-running Carwash corruption probe, which has implicated state-run oil company Petrobras, large construction companies and politicians in kickbacks.
Rousseff was suspended on May 12 and faces an impeachment trial in the Senate. To be fully removed, Brazil's first woman president must have at least 54 of 81 senators vote against her when the final impeachment ruling is set. The vote is expected to happen by mid-August. If less than 54 senators vote for her removal, Rousseff could be returned to office.
Before it's here, it's on the Bloomberg Terminal.
LEARN MORE