Uruguay Wind Developer Near Deal to Export Energy to Argentina
Uruguay has surplus of cheap power from hydro and wind plants

Argentina facing electricity shortage and high prices
Ventus Ingenieria SRL, a Uruguayan wind-farm developer, is close to receiving a permit to export electricity to Argentina amid an excess of power generation in its home market.
Uruguay's government is considering a temporary permit to accelerate the deal while the government works through the standard regulatory procedures, according to Francis Raquet, a director at Ventus. The Montevideo-based company closed a deal in April to sell power to Argentina's San Atanasio Energia SA.
"It is logical to export from Uruguay, where there is too much energy right now and prices are low, to Argentina, which produces expensive energy and needs more," Raquet said in a phone interview Wednesday.
Uruguay faces low spot prices as heavy rains have pushed hydroelectricity generation to its maximum and declining oil prices drag down costs for thermoelectric plants. More than 30 percent of Uruguay's generating capacity comes from oil-burning plants, according to Bloomberg New Energy Finance, and 60 percent is provided by wind and hydroelectric plants.
Argentina's government, on the other hand, faces power shortage and is importing energy from other countries in the region, including Uruguay and Brazil. The Ventus deal is the first time a company in Uruguay will export power directly to a company in Argentina, Raquet said.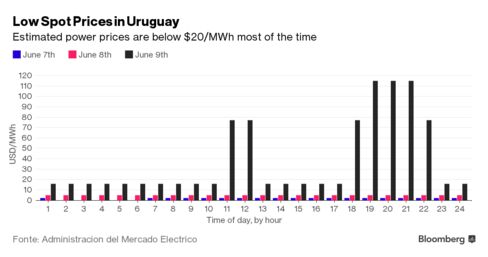 "In Argentina, buying energy at more competitive prices is positive as we displace fossil and expensive power consumption," said Juan Bosch, chief executive officer at San Atanasio Energia. The company will sell energy directly to Argentinean industrial customers, via short-term power purchase agreements.
Argentina approved a law in September requiring industrial consumers to get 8 percent of their power from renewable sources in 2017, and 20 percent by 2025. More than 60 percent of Argentina's energy comes from fossil fuels, according to Bloomberg New Energy Finance.
Ventus operates eight wind farms in Uruguay with total installed capacity of 70 megawatts, according to a statement sent by e-mail. Investment in the projects totaled $140 million.
The deal is subject to both government's approvals. "It opens a chance that more companies can export energy from Uruguay," said Raquet.
Before it's here, it's on the Bloomberg Terminal.
LEARN MORE