Has America Run Out of Workers to Fill Its Open Jobs?
A new report foreshadows higher wages to get and keep qualified employees—and maybe an interest rate hike.
Wednesday's report on the monthly Job Openings and Labor Turnover Survey (JOLTS) has intensified concerns among some economists that the U.S. economy is running out of people who want jobs and are qualified to fill existing openings.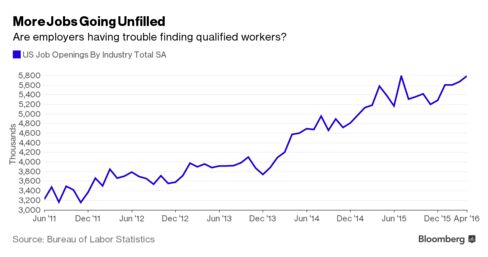 The number of openings rose to 5.8 million in April, from 5.7 million in March, according to the Bureau of Labor Statistics. That number is tied with July's results for the highest number of openings since the recovery began. Hires, meanwhile, fell to 5.1 million, from 5.3 million, over the same period.

That "suggests that firms may be having difficulty in finding qualified employees in a tightening job market," Drew Matus, an economist at UBS Securities LLC, wrote on Wednesday. The headline on his analysis was "Has The Well Run Dry?"
Even before the latest report, analysts were fretting that Friday's data on weak job growth was a sign that companies couldn't fill openings. The economy added just 38,000 jobs in May. The unemployment rate fell to 4.7 percent, but only because the labor force shrank. Wages rose 2.5 percent over the past year, which isn't rapid but does indicate that companies are starting to compete for hard-to-get workers.
"All the ancillary data supports the idea that labor is becoming scarcer," wrote Charles Lieberman, chief investment officer at Advisors Capital Management LLC.

It's common for jobs to become hard to fill when the economy is growing rapidly. What's worrisome is that growth hasn't been particularly strong. Gross domestic product grew just 2 percent in the year ending March 31. And lots of people are still on the sidelines: The number working part-time because they can't get full-time jobs jumped by half a million in May, to 6.4 million, while 1.9 million had been searching but remained unemployed for more than half a year.
This presents a dilemma for the Federal Reserve, whose Federal Open Market Committee is meeting on June 14-15 to discuss interest rates. If the economy really is running out of ready and willing workers, then there's a risk that employers will start to give out big wage increases to recruit and keep them, raising prices to cover the bill. To stop inflation from spiraling upward, the Fed would need to crank up interest rates in order to cool off economic growth and keep labor demand in check.
But it's also possible that there remains a lot of room for employment to increase without inflationary bottlenecks. People may return to the labor force if demand is strong enough: Friday's disappointing jobs report may indicate weak demand for labor, rather than weak supply. If that's the case, the Fed should keep interest rates low to stimulate more demand. The JOLTS data on job openings may also be less jolting than it appears. Matus, of UBS, wrote that "there is some reason to question that rise in job openings." He noted that the number of online help-wanted ads has fallen steadily after peaking in the second quarter of 2015.
Fed Chair Janet Yellen, in a speech in Philadelphia on Monday, indicated that the FOMC is in no hurry to put through another increase in the federal funds rate. She said the U.S. economy was making progress but made no mention as to when the Fed might raise again, which analysts took as a signal that the FOMC won't raise rates next week.
Before it's here, it's on the Bloomberg Terminal.
LEARN MORE