Blair Slams Corbyn for 'Standing By' as Syria Barrel-Bombed
Former premier says Labour leader only interested in protest

Says he has 'no idea' what a Trump presidency would be like
Former Prime Minister Tony Blair made his strongest attack yet on Jeremy Corbyn, the current leader of the U.K. Labour Party, saying he's only interested in protest rather than taking power to improve people's lives.
Corbyn surprised even himself by becoming Labour leader in 2015. Much of his campaign focused on criticizing the decisions taken by Blair in his decade at the head of a Labour government from 1997. He has suggested that Blair could face a war-crimes trial over the 2003 invasion of Iraq. In an interview in London on Wednesday, the former prime minister was caustic.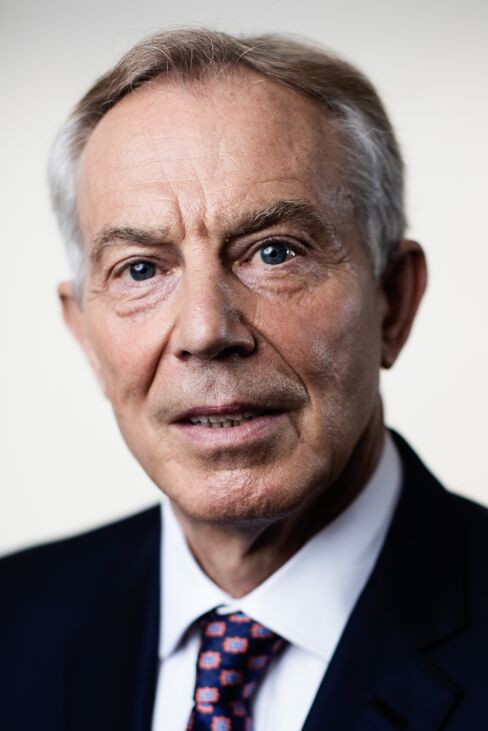 "I'm accused of being a war criminal for removing Saddam Hussein -- who by the way was a war criminal -- and yet Jeremy is seen as a progressive icon as we stand by and watch the people of Syria barrel-bombed, beaten and starved into submission and do nothing," Blair said.
Blair argued that the rise of Corbyn in the U.K. and of Donald Trump in the U.S. could be attributed partly to the "revolutionary phenomenon" of social media, which "creates these waves of sentiment and emotion" and promotes the idea that complex problems have simple solutions. He said the current prime minister, David Cameron, faces a tougher job than he did.
"The wall of noise around him as he makes decisions," Blair said, "is larger and louder than anything before. Twitter and all these things, if you're not careful, they create the era of the loudmouth. You read this stuff on Twitter -- 140 characters and you're trying to sum up foreign policy."
He said his view of politics is different from Corbyn's.
"There's a guy whose face is on the placard," the former prime minister said. "That's me: Hate that guy. You're the person in power taking difficult decisions. Jeremy is the guy with the placard, he's the guy holding it. One's the politics of power and the other's the politics of protest."
'No Idea'
On Trump, the presumptive Republican presidential nominee, Blair expressed bafflement.
"It's not clear to me what his policies really are," he said. "If they are some of the things that have been talked about, obviously you couldn't agree with them. An actual trade war with China would be devastating for both sides so I can't believe that's what he'd actually want to do. If you literally say that no Muslims are going to come into America, that's not a policy we can go along with. I've no idea what a Trump presidency would look like. It's not clear to me what the common ground would be."
Trump and Corbyn both owed their success to similar movements, Blair said. "Both sides of the Atlantic, there's a sense among people that they're frustrated with the system. It's about rattling the cage and saying: 'You've got to listen,"' he said. "Social media gives you the ability to mount those movements at speed and at scale."
'Dismissive Attitude'
Blair said social-media campaigns oversimplify political discussions. "You get a sort of dismissive attitude towards people who say these situations are very complex, the problems are very difficult, the solutions take time," he said. The only Western country to have put such a movement in power is Greece, "with consequences that are very obvious," Blair said, as the government split between "those people who had then to come to terms with reality" and "those people who just refused to come to terms with reality and went out."
Asked if he thought such movements could take power elsewhere, Blair was doubtful. "It's clear to me they can take over a political party," he said. "It's not clear to me they can take over a country."
Corbyn's office denied the Labour leader is only interested in the politics of protest. "Jeremy Corbyn is leading the opposition against the Conservative government," a spokesman said. "We were quite clear about our position on Syria, and how we achieve peace."
Watch Next: Brexit Vote Has 'Seismic Consequences'
Before it's here, it's on the Bloomberg Terminal.
LEARN MORE