U.S. Paratroopers Drop Into Poland to Send Putin a Message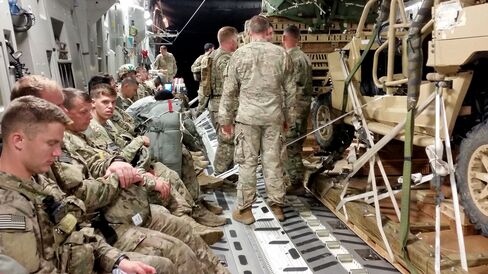 Flying 10 hours, then parachuting 1,000 feet in 50 seconds

82nd Airborne's response force joins U.K., Poland in exercise
Thirty-five U.S. paratroopers from the 82nd Airborne Division's quick reaction force -- cheeks, foreheads and necks slathered in green-brown camouflage paint -- jumped into Poland Tuesday in a tightly timed sequence that lasted only 22 seconds.
They were in the lead plane of six C-17s that dropped more than 400 Americans in a simultaneous operation with Polish and British paratroopers to show the allies could deter an assertive Russia after President Vladimir Putin's seizure of Crimea and intervention in Ukraine. It's being run in combination with a major Polish land exercise called "Exercise Anakonda."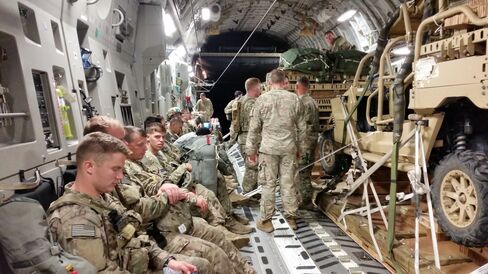 Flying 10 hours into clear skies after a cloudy takeoff from Pope Field in North Carolina, the Americans followed their division commander, Major General Richard Clarke, who was first to parachute into the drop zone near Tolun, Poland. Dropped from 1,000 feet (305 meters), it took him about 50 seconds to hit the ground.
"If you think about going across the Atlantic Ocean and hitting a drop zone, basically hitting it within five seconds of our planned arrival time, it's pretty darn good," said Air Force Colonel Jimmy Canlas, vice commander of the C-17 transport wing at Charleston, South Carolina, who helped plan the complex mission with Clarke.
Normandy Anniversary
The paratroopers of the 82nd Airborne Division's "Global Response Force" took off from North Carolina late on June 6 -- a storied date for the unit that helped liberate France in the Normandy invasion that began on that day in 1944. The planes conducted aerial refueling en route from accompanying KC-10 and KC-135 tankers.
Second Lieutenant Josh Altman was on Clarke's plane, making his 15th jump. He was the last man out in the second of two lines exiting the plane's two doors.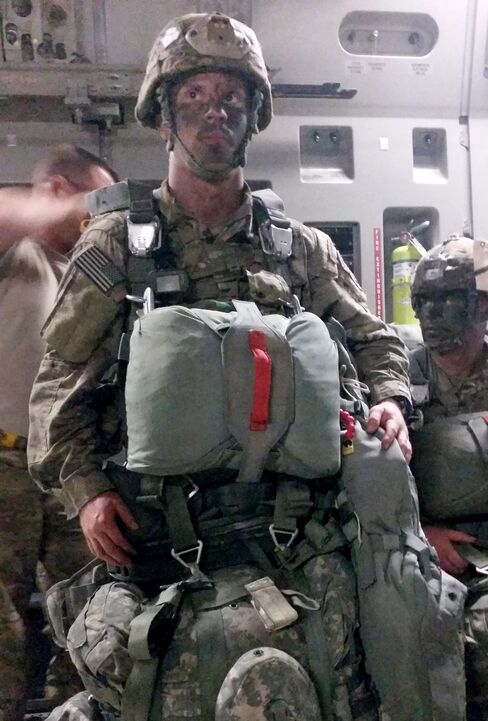 "I'll be focused on my piece" and on making a "strong exit," the 25-year-old Altman, of Canton, Georgia, said before hoisting about 133 pounds of combat equipment onto his 160-pound frame. Focusing meant keeping eyes on the safety officer, elbows together, legs straight and knees locked for the jump.
As members of the 82nd's 1st brigade currently assigned to the Global Response Force hit the drop zone near Torun, the U.S.'s 173rd Airborne Brigade jumped near Swidwin, Poland. Both actions were intended to demonstrate the allies' ability "to respond to a crisis scenario from staging bases in both Europe and the U.S. within 18 hours of notification," according to an Army statement.
One goal of the multinational exercise was to practice securing a bridge crossing the Vistula River, clearing a route for the U.S. Army's 2nd Cavalry Regiment to cross on its way to training maneuvers in the Baltics.
For the 82nd, the exercise is designed to evaluate the readiness of the Global Response Force to operate alongside a "high-readiness force in Europe" involving a combined air and ground force of more than 5,000, according to a briefing chart.
Mission Marred
Although the jump went smoothly, the mission was marred from the beginning because three of the nine planned C-17s never left North Carolina. One was downed by an issue that surfaced in a pre-flight check maintenance, another by an engine malfunction on the runway before takeoff. A third couldn't take off because it trailed the downed transport.
Despite those results, "the C-17 has a very, very high reliability rate" so "it was kind of unique that this all happened in a time crunch," Canlas said.
But it meant that 207 of the planned 620 paratroopers stayed behind in North Carolina. The 82nd's deputy division commander and a battalion commander missed the exercise, as did a British commander who was traveling with the Americans. Only one of a planned four British and U.S. howitzers was dropped, according to officials.
The international exercise was a response to a fictional scenario in which Estonia invokes its collective-defense right under the North Atlantic Treaty Organization after threats from the make-believe nations of Bothnia and Torrike, which have "significant military capabilities and the political will to consider the use of force," according to a planning document.
'911 Force'
"We're the nation's 911 force," Major General Clarke said in an interview after receiving an advance briefing on the operation.
Under the scenario, a battalion jumps with pre-packed pallets of munitions, rations, weapons and communications gear. If, for example, intelligence picked up signs of enemy armor, the force would jump with hand-carried Javelin antitank weapons.
The U.S. Army plans to bolster its ground-based presence in Europe next year with the long-term deployment of its best armor, tank-killing helicopters and infantry vehicles capable of destroying Russian armored personnel carriers.
The service also has been retooling its training forces to role-play as Russian troops employing tactics they might use in assaults against Ukraine's military, including cyberwarfare.
The 82nd's paratroopers dropped into Poland a new piece of equipment intended to increase the mobility of troops who traditionally walk after hitting the ground -- All-Terrain Vehicles made by Polaris Industries Inc.
"These vehicles significantly enhance what would otherwise be foot mobility," Brigadier General Brian Winski, deputy commander of the 82nd, said in an e-mail. "They change the dynamic and turn what would have been a 3 mile-per-hour operation into a 50 mile-per-hour operation."
Before it's here, it's on the Bloomberg Terminal.
LEARN MORE