The outpouring of workers from the Baltic region since the demise of communism may be approaching its end.
The latest data from Estonia show immigration last year topped emigration for the first time since the nation of 1.3 million people regained independence in 1991. While Lithuania and Latvia are still showing net outflows, Estonia's salary and employment dynamics suggest an eventual turnaround in all three.
"Wage growth is keeping people here and the state of the labor market is attracting immigrants," said Heido Vitsur, an economist at LHV Pank in Estonia's capital, Tallinn. "Latvia and Lithuania should follow that example at some point, but their wage levels are still quite low, especially outside the capitals, so it won't be imminent."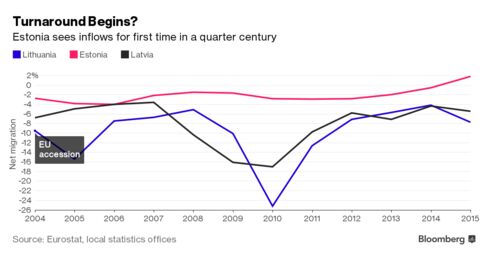 Departures of Russian soldiers shrank Baltic populations in the aftermath of the Soviet collapse. Later on, membership of the European Union — including freedom of movement — and crippling recessions pushed workers out in search of higher salaries. Demographics also hurt the three nations, now all eurozone members, as the elderly's share grows.
Having endured massive austerity in the wake of the global financial crisis that erupted in 2008, the three Baltic economies are now expanding faster than the EU. Estonia's average wages, while still two-fifths of the bloc's average, have surged 23 percent since 2012. Unemployment has plunged to 6.5 percent from almost 20 percent six years ago, while the euro region's rate is still 10.3 percent.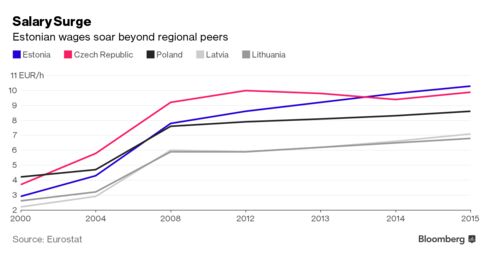 Fatter pay checks are luring back Estonians from popular destinations such as Finland, across the Baltic Sea. Meanwhile a growing lack of skilled labor is pushing the government to loosen strict rules on migrants: immigrants from Russia and conflict-stricken Ukraine were 16 percent of last year's total, though public opinion throughout the region is hostile to the prospect of refugees from Syria.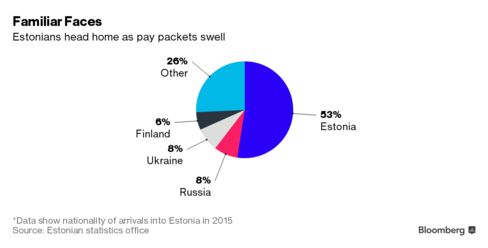 Estonia's migration statistics may underestimate the appeal of working abroad, benefiting as many people reside there while traveling each week to Finland for jobs. Latvians and Lithuanians tend to head further afield for employment, to countries such as the U.K. and Norway, making it trickier to reverse their numbers.
The picture across the Baltic region will improve as its Russian-speaking minorities ease language barriers for immigrants from Ukraine, according to Rokas Grajauskas, chief Baltic economist at Danske Bank A/S in the Lithuanian capital of Vilnius.
"Sooner or later, the Estonian trend will spread," he said. "Economic factors are key to emigration. With continued wage growth and intensifying labor force shortages, the negative trends will reverse."
Before it's here, it's on the Bloomberg Terminal.
LEARN MORE