Saudi Arabia Lifts Oil Pricing in Show of Confidence on Demand
Arab Light crude pricing to Asia increased for second month

Oil prices rising as supplies tightened on unexpected outages
Saudi Arabia lifted oil pricing for Asian and U.S. customers, a sign the world's biggest crude exporter is confident that demand is finally eroding a global supply glut.
State-owned Saudi Arabian Oil Co. raised its official selling price for Arab Light crude in Asia for the second consecutive month, the first back-to-back increase since May 2015, to the highest level since September 2014. Saudi Aramco is the first Gulf country to give July pricing, and major producers including Iraq and Iran typically follow Saudi Arabia. Supply and demand are coming into balance, and oil prices will keep recovering, Saudi Arabia Energy Minister Khalid Al-Falih told reporters in Vienna on Thursday.
Oil has climbed for the past four months, the longest streak since 2011, as supplies tightened from a decline in U.S. drilling, wildfires in Canada and disruptions in Nigeria. In China, the world's largest energy consumer, independent refineries are boosting processing rates to a record high, according to industry website Oilchem.net. Consumption in India led the International Energy Agency last month to reduce its estimate of the global oil surplus for the first half.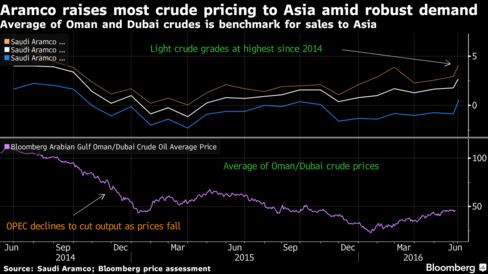 Stronger demand in Asia helps Aramco stay competitive in its biggest regional market even with higher pricing, according to Robin Mills, chief executive officer at consultant Qamar Energy in Dubai. Aramco is "getting more bullish on demand," Mills, a non-resident fellow at the Brookings Institution in Doha, said Sunday by phone. "India is showing a lot of strength and we're still seeing very robust demand from China."
For an interview with Al-Falih on the success of OPEC's strategy, click here.
Brent crude rose 1.1 percent to $50.17 a barrel by 12:54 p.m. in Dubai.
OPEC's Strategy
An advance of more than 80 percent in oil prices since January has made oil ministers more confident that OPEC's two-year strategy of trying to win market share from higher-cost producers is succeeding. The glut shows signs of ending as companies shut unprofitable fields and cut investments, according to forecasters from the IEA to Goldman Sachs Group Inc.

The surplus is down 1.2 million to 1.5 million barrels a day, and Brent has the potential to reach $60 a barrel this year, Ali Majed Al Mansoori, chairman of the Abu Dhabi Department of Economic Development, said in a Bloomberg TV interview. Abu Dhabi, capital of the United Arab Emirates, holds about 6 percent of the world's crude reserves.
Asian Pricing
Aramco raised Arab Light pricing by 35 cents a barrel to 60 cents more than the regional benchmark for sales to Asia, it said in an e-mailed statement. The company was expected to raise the premium by 40 cents a barrel to 65 cents a barrel more than the benchmark, according to the median estimate in a Bloomberg survey of five refiners and traders in the region last week.
Aramco also increased pricing for U.S. buyers on all grades except Extra Light. Arab Light crude for U.S. buyers increased by 20 cents a barrel, to 55 cents more than the regional benchmark, according to the statement. It deepened discounts for all grades to buyers in Europe, it said in the statement.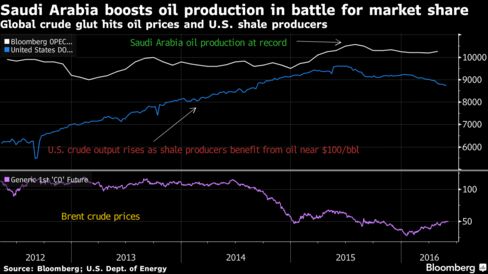 Saudi Arabia pumped 10.27 million barrels a day in April, data compiled by Bloomberg show. It produced a record average of 10.2 million barrels daily last year, according to the annual review.
Middle Eastern producers are competing increasingly with cargoes from Latin America, North Africa and Russia for buyers in Asia, its largest market. Producers in the Persian Gulf region sell mostly under long-term contracts to refiners. Most of the Gulf's state oil companies price their crude at a premium or discount to a benchmark. For Asia the benchmark is the average of Oman and Dubai oil grades and for North America the marker is the Argus Sour Crude Index.
Before it's here, it's on the Bloomberg Terminal.
LEARN MORE