Peru Weighs Ex-Central Banker Against Autocrat's Daughter
Latest polls showed Fujimori lost narrow lead over Kuczynski

Both candidates have offered to boost spending, public works
Peruvians are voting in a presidential runoff between an ex-central banker and the daughter of an autocrat, both pro-business and both statistically tied in the latest polls.
Polling stations opened at 8 a.m. and close at 4 p.m. local time. Close to 23 million people are expected to cast their ballots after no candidate won more than 50 percent in the first round of voting in April. Ipsos and GFK will release exit polls after voting ends, with the first official results expected at 9 p.m.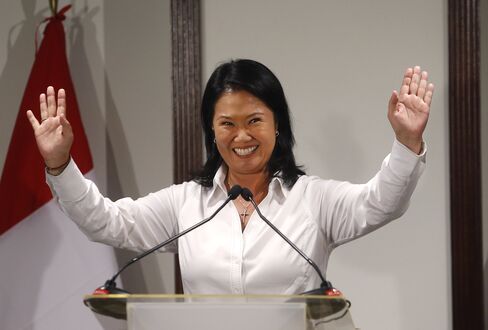 The election pits Keiko Fujimori, the daughter of a jailed former president, against Pedro Pablo Kuczynski, an ex-central banker and Wall Street veteran. Both candidates have pledged to continue market-friendly policies that have bolstered growth for more than a decade, focusing the electoral debate on issues such as tackling crime, expanding public services and bringing workers and small businesses into the formal economy.
"Whoever wins, governing won't be easy," Urpi Torrado, chief executive officer of polling company Datum Internacional, said in an interview. "There's an anti-Keiko movement that's taken to the streets, while Kuczynski would have to govern with just 18" seats in the 130-seat Congress, compared with 73 for Fujimori, Torrado said.
Kuczynski had 51.1 percent and Fujimori had 48.9 percent in a simulated vote conducted by GFK on June 4. The company questioned 11,000 people, giving a margin of error of 1.6 percentage points. It was the first time that Kuczynski has led voter intentions in a survey by GFK in at least a month. A separate poll by IPSOS gave Kuczynski 50.4 percent and Fujimori 49.6 percent.
Father's Legacy
The legacy of Fujimori's father, Alberto, hovers over the election and has polarized the electorate. During his 1990 to 2000 government, he quashed two guerrilla insurgencies and ended hyperinflation, which for many Peruvians outweighs the widespread corruption and abuse of power that eventually toppled his government.
Keiko's tougher stance on crime and focus on policies for the rural poor and working class won her 40 percent of the first-round votes while Kuczynski won 21 percent.
For her critics, Fujimori hasn't done enough to distance herself from her father's misdeeds and tens of thousands of Peruvians marched against her in Lima on May 31. Her campaign suffered a setback last month after the second-highest official in her party resigned after media reports that he is being investigated by the Drug Enforcement Administration for suspected money laundering.
PPK during breakfast with supporters in La Victoria district in Lima Sunday called for voters to "think of democracy because that's the only thing that's going to save us from crime and drug trafficking." Fujimori urged Peruvians to vote early and without fear.
While polls suggest many people view Kuczynski, who's known as PPK, as too old to be running for president – he's 77 while Fujimori is 41 –- others see him as an experienced technocrat with an unblemished record during stints as a minister in the 1980s and early 2000s.
"He's got experience, he's very transparent, he's professional and an intellectual," said Victor Pineda, 58, a football coach speaking outside polling station in Miraflores.
Before it's here, it's on the Bloomberg Terminal.
LEARN MORE