Sputtering Jobs Market Risks Damping U.S. Economic Expansion
Payrolls rise in May at slowest pace in almost six years

Report all but kills the chances of a June rate hike by Fed
The U.S. economy looks to be in danger of losing its main pillar as employers throttled back hiring in May to the lowest level in almost six years.
The slowdown -- payrolls rose by 38,000 after a downwardly revised 123,000 in April -- raised questions about the ability of consumers to keep spending at a good clip. It also cast doubts on Federal Reserve policy makers' intentions to raise interest rates soon.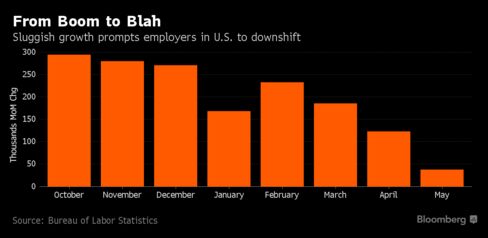 "It's definitely the most concerning signal we've got recently," said Michael Feroli, chief U.S. economist at JPMorgan Chase & Co. in New York.
Presumptive Republican presidential nominee Donald Trump immediately jumped all over the news, calling the jobs report "terrible" and a "bombshell" in a tweet.
The reaction in financial markets was also swift. The Standard & Poor's 500 Index retreated from a seven-month high, the dollar tumbled the most in more than two months against the euro, gold posted the biggest advance in 11 weeks, and the yield on the two-year Treasury note sank 10 basis points.
The deceleration in the labor market was widespread, with industries from construction and manufacturing to temporary-help services cutting workers.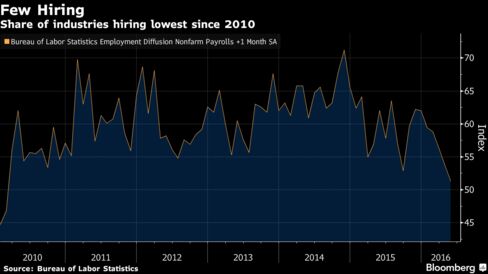 Unemployment did drop, to an almost nine-year low of 4.7 percent last month from 5 percent in April. But even that was bad news as the decline was mainly because more Americans dropped out of the labor force rather than from an increase in employment.
In a sign that the jobs market may remain weak, the Institute for Supply Management reported that American service providers expanded in May at the slowest pace in more than two years. Its measure of services employment dropped to its lowest since February 2014.
As economic growth downshifted below 1 percent in the first quarter, many economists took comfort from the continued strength of the jobs market, arguing that it was a better gauge of what was going on.
Friday's job numbers make that case a harder sell, although gross domestic product is generally projected to rebound in the second quarter after the dismal start to the year.
"The underlying momentum in the economy has slowed," said Millan Mulraine, deputy head of U.S. macro strategy for TD Securities USA LLC.
Economists said the May report probably exaggerates the extent of the weakness in the job market, in part because it reflected 35,000 striking workers at Verizon Communications Inc., who have since settled with the company and will rejoin the job count this month.
Yet looking over a longer time frame, the once sturdy jobs market shows clear signs of softening. Payrolls growth has averaged 116,000 per month since April, compared with last year's 229,000 pace.
Broad Cutback
The report showed weakness in sectors vulnerable to lackluster overseas markets and to cutbacks in energy investment, along with hiring slowdowns in services.
"There's a lot of worries out there about global growth and how sustainable and how robust it is," said Chris Williamson, chief economist at Markit Economics, which polls company purchasing managers monthly. That's being exacerbated by uncertainty about the presidential election "and by what the U.S. might look like afterward."
The disappointing employment numbers all but eliminated the chance that Fed officials will raise interest rates when they meet June 14-15 in Washington, and may make it difficult for them to move in July as well, economists and investors said.
Federal Reserve
"This report kills the small remaining chance of a June hike and drastically reduces the odds of July," Ian Shepherdson, chief economist at Pantheon Macroeconomics Ltd., said in a research note.
In a speech Friday, Fed Governor Lael Brainard said the figures "suggest that the labor market has slowed." Policy makers should be in no hurry to raise given still-low inflation, the possibility that the U.K. votes to leave the European Union later this month and concern about growth in China, she said.
"Recognizing the data we have on hand for the second quarter is quite mixed and still limited, and there is important near-term uncertainty, there would appear to be an advantage to waiting until developments provide greater confidence," Brainard said.
Presidential Campaign
The data also play into the hands of real estate developer Trump, who has consistently contended that the economy is in bad shape and that President Barack Obama and the Democratic Party are to blame.
White House aides argued that the economy is healthy despite the disappointing jobs report. Jason Furman, the chairman of the president's Council of Economic Advisers, said in a statement that it was important to view the report in the context of other, positive trends, including upticks in consumer spending as well as vehicle and housing sales.
"The Great American jobs machine is sputtering and even the politicians are sitting up and taking notice," Chris Rupkey, chief financial economist at Bank of Tokyo-Mitsubishi UFJ Ltd. in New York, said in a note to clients.
Last month's gain in payrolls was far worse than the median 160,000 that economists had forecast in a Bloomberg survey. The most-pessimistic estimate called for a 90,000 advance.
In another bit of bad news, more Americans who wanted full-time work had to settle for part-time employment last month, according to the Labor Department report.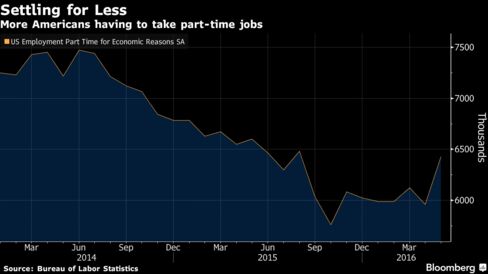 About the only bright spot in the report was worker pay. Average hourly earnings, rose by 0.2 percent in May after a 0.4 percent gain in April that was a bit stronger than initially reported. Pay increased 2.5 percent over the 12 months ended in May.
Before it's here, it's on the Bloomberg Terminal.
LEARN MORE