Hollande Popularity Slumps as Labor Law Drives Away Socialists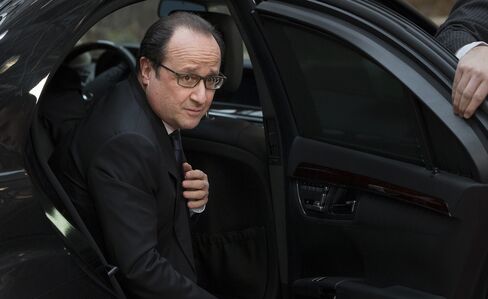 President Francois Hollande's approval rating fell to a record low as his battle with unions to push through changes to French labor law hurts support from within his own Socialist base, an Elabe poll published Thursday shows.
About 15 percent of voters have confidence in Hollande's leadership, down from 33 percent in December and 58 percent when he took office in May 2012, according to the survey. Only 33 percent of respondents who identify as left-leaning say they have confidence in the president, down 8 points in a month.
Hollande is pushing through changes to labor law that have prompted unions to shut down half of France's oil refineries, reduce electricity output, as well as contribute to a disruption in rail traffic. Two consecutive months of dropping jobless claims and stronger-than-expected growth in the first quarter haven't made up for the anger with the president or Prime Minister Manuel Valls, whose ratings are also at the lowest level since he took office.
"Fully 83 percent of those questioned no longer have confidence that the head of state can effectively deal with the problems facing the country," Elabe pollster Yves-Marie Cann wrote in a report. "What's even more worrying for Francois Hollande is that confidence in him among left-leaning voters has dropped."
Elabe interviewed 1,001 French adults May 31 and June 1. The poll's margin of error is 2.2 percentage points.
Before it's here, it's on the Bloomberg Terminal.
LEARN MORE