Wall Street Vet Raised in Jungle Gets Shot at Peru's Presidency
Pedro Pablo Kuczynski is challenging Keiko Fujimori on June 5

77-year-old finance veteran wants to borrow lots and cut taxes
The makeshift bandstand, at a trash-strewn intersection of roast chicken joints, features a guitarist and Andean flutist trying, not very successfully, to attract a crowd. It's a sunny Sunday in the south Peruvian town of Moquegua, a one-time Inca stronghold, and any minute, the announcer promises, he will be here -- the next president of Peru, Pedro Pablo Kuczynski!
The music crescendos, flags flutter and the crowd grows to several hundred. But even after he arrives, emerging stiffly from a van, Kuczynski is hard to see. He chooses not to mount the stand but to give a 12-minute talk in front of it, speaking thoughtfully of transparent government, a new regional hospital and running water for 10 million Peruvians who lack it. He mingles briefly, then is on his way.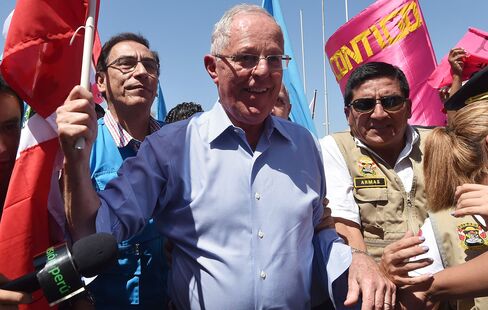 It is hard to imagine a candidate who, on paper, looks better than Kuczynski to lead a Latin American nation at this post-populist moment of slumping commodity prices. A former central banker, finance minister and Wall Street executive, PPK, as he is known, speaks three languages with perfect fluency.
For more on Peru's economy, click here.
Contemplative and fiercely dedicated to bringing his country into the present, he shuns handlers and takes questions with a rare openness. He knows everyone who is anyone in global development finance and is floating a plan to immediately sell $6 billion in government bonds to fund infrastructure projects in this underdeveloped and under-leveraged nation. He learned the importance of public service early, living in the Amazon as a child while his Berlin-born physician father helped eliminate leprosy in Peru.
But at 77, Kuczynski is up against Keiko Fujimori, the tightly scripted and politically hungry 41-year-old daughter of a jailed ex-president who vows to halt rising crime the way her father knocked out Maoist terror a quarter century ago. And as the somewhat pathetic showing at the Moquegua bandstand demonstrates, campaigning is not Kuczynski's forte. He evinces a calm wisdom; she gives off fire. While the latest Ipsos survey shows her pulling ahead on the eve of Sunday's vote, more than one-tenth of Peruvians are still undecided. They had been tied for weeks.
Voter Concerns
"She is a brilliant politician, while he is absolutely apolitical," observes Julio Cotler of the Peruvian Studies Institute in Lima. "He plays the flute and piano, has written serious academic texts and has been a senior official. But he has no real political capital on the ground. And insecurity from crime is the biggest concern of voters right now."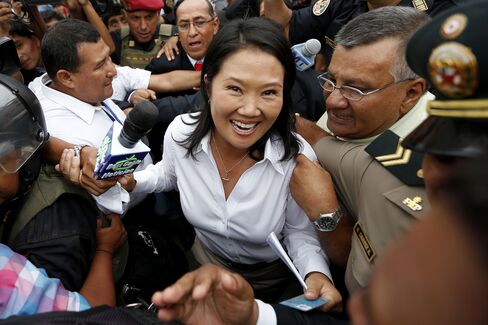 Kuczynski's nonchalance was evident when, in the middle of this neck-and-neck race, he took off for a week in New York. His youngest child, Princeton-bound Suzanne, was turning 18 and graduating top of her boarding-school class. He wanted to be there. He also visited another daughter, former New York Times reporter Alex Kuczynski, and spoke at the Council on Foreign Relations where half the participants knew him from earlier incarnations at the World Bank, University of Oxford, First Boston Corp. and the squash court.
The New York visit was so confounding that rumors spread he had sneaked off to a doctor for a health problem. Fujimori, who has been trekking from village to village campaigning for five years, accused him of gringo arrogance, preferring his Wall Street buddies to the suffering people of Peru. His poll numbers slipped. And he says with rueful candor, "If I'd known it was going to cost me this much, I wouldn't have gone."
No Talking Points
Kuczynski sits for two interviews, one near Moquegua over lunch, and two days later in his Lima home of red-tiled floors, French doors, brocaded chairs and outdoor pool. He brings no aide, consults no talking points. Fujimori says through one of her handlers that she is giving no interviews to foreign media.
This difference in approach -- one laser-focused on winning votes, the other consciously internationalist -- will be put to the test on Sunday. Even those who feel affection and admiration for Kuczynski and believe he would be an excellent president wonder if he can prevail.
"Peruvians are asking themselves, 'Can he represent me?'" worries Felipe Ortiz de Zevallos, a former ambassador to Washington, financier and friend. "'Can I have confidence in this guy? He's old, his parents were European, his wife's American, his kids live in the States.' Meanwhile she is sending out the message that she represents the poor and he the rich."
Drawing Distinctions
There is irony here. Although Fujimori looks more comfortable in an Andean poncho than Kuczynski, who can give the air of a tourist, she is of Japanese extraction, married to an American, was educated at Boston and Columbia universities, and grew up coddled in the presidential palace. And her economic policies, like those of her father, are not very different from Kuczynski's. The business community likes them both. When she lost in 2011 to President Ollanta Humala, Kuczynski campaigned for her. But elections, of course, are about drawing distinctions.
In her public appearances, Fujimori vows to fight crime by introducing capital punishment for child rapists and allowing police officers to hold second jobs, as they have in the past, to increase their incomes. At a rally last week in a poor Lima neighborhood, she told the crowd of several thousand, "Delinquency is up because there has been no leader to face the problem head-on. Well, here I am."
She vows to bring back her father's programs of free school shoes and uniforms. Kuczynski's proposals, she says, will benefit only big business.
"No One in Switzerland Grows Drugs"
Kuczynski has a crime-fighting plan that includes increased salaries for cops and cleaning up the judiciary but is broader and riskier in conception. He believes the source of violent crime in Peru is the drug trade -- "No one in Switzerland grows drugs," he says -- and his idea is to persuade coca growers and dealers to abandon their illegal crop for something legitimate and lucrative.
So he went to Peru's top coca-growing region and made the suggestion. "I told them, 'You are a dying business,'" he says. "'Synthetic drugs are going to finish you off. What used to bring you 100 soles ($30) now brings you 40 soles. Let's come up with a better business model for you. And let's start by building roads here.' They listened."
He wants to cut taxes drastically with the idea of bringing into the economy the huge number of businesses that operate outside the tax system, what Peruvians politely call the informal economy. They would be offered amnesty to go legitimate and then benefit from normal bank loans rather than the usurious ones they get now. Kuczynski notes that while Peru has been the region's fastest-growing economy and earned an investment-grade A credit rating, formal borrowing has been paltry -- equal to 35 percent of gross domestic product, compared with almost 200 percent in the U.S. "We need to spend more," he says. "We're a developing democracy."
Internal Reckoning
Like many other Latin American countries, Peru rode a decade-long boom in commodity prices (mostly mining, in its case) and Chinese investment that pulled many of its 31 million inhabitants from poverty into a tentative middle class. But as China's economy has slowed and commodity prices tanked, Peru, like Argentina, Brazil and Venezuela, faces difficult choices and a kind of internal reckoning.
Unlike its neighbors, Peru hasn't been a bastion of leftist populism in recent years mostly because in the 1980s it suffered under the terrorist threat of the Shining Path organization. Fujimori's father, Alberto, won a surprise victory in the 1990 election, eliminated the group and introduced market-oriented economics. Later, he was found to have permitted death squads and engaged in corruption, and he is now in prison.
Darker Tendencies
His legacy, torn between the poles of admirable and despicable, casts a long shadow in this election. His daughter vows to take what was best while her opponents charge that she, too, will yield to authoritarian tendencies laced with drug-fueled corruption. Fujimoristas dominate Congress, and the claim is that she and they will fall prey to her father's darker tendencies and influence.
"It's fairly clear to everyone that Keiko wants to get her dad out of jail, and the old guy will be pulling the strings," Kuczynski says. "This is a very different dynasty from the Bushes."
A Chimp Served Scotch
Whether or not Kuczynski wins the presidency, his life has been remarkable. He was born in Lima in 1938 to Maxime Kuczynski, who was of partial Jewish background, and Madeleine Godard, a French Protestant, literary scholar and cousin of the filmmaker Jean-Luc Godard. When he was an infant, they moved to Iquitos in the Amazon. Maxime ran a leper colony nearby. Kuczynski recalls a family chimp who served Scotch to his father in the evening. The language of the household was French.
When he was 10, his father was imprisoned for a year by the military dictatorship and then he, his brother Michael (now a Cambridge don) and his mother spent a year in Switzerland. The boys completed school in northern England. Pedro Pablo spent a year in London at the Royal Academy of Music focused on flute and piano. He then went to Oxford, graduate school at Princeton and was hired at the World Bank, becoming an executive there while still in his 20s.
He returned to Peru to work for the central bank. In October 1968, on his 30th birthday, there was another military coup. He was the bank's deputy director and his bosses were out of the country at a meeting of the International Monetary Fund. Peru's new ruler, Juan Velasco, called Kuczynski into his office.
Diplomatic Immunity
"He put a pistol on the desk," Kuczynski recalls. "He wanted to know where the money was." Like his father, Kuczynski was imprisoned but managed to get out after a few days. He made his way north, entering Ecuador neck-high in water, and kept walking for almost three weeks. He flew to Washington and got hired by the IMF, which granted him diplomatic immunity, allowing him to fly his wife and children, then under house arrest, out of the country.
From there he returned to the World Bank, where then-President Robert McNamara told him to go to Wall Street and learn about finance from the inside. He started at Kuhn Loeb & Co., then went to First Boston and Halco Mining Inc., a bauxite consortium, before running his own private-equity firm for a decade. In between, he served as Peru's minister of mines. He finally returned to Peru in the 2000s and set up an NGO to help build water supplies for poor communities and served as finance minister twice as well as prime minister. His first presidential run was in 2011, when he failed to get past the first round.
This election may be his last hurrah. Isabel Olaya, who was grilling plantain and serving pork and rice from a street cart near a Fujimori rally last week, had this observation of the race: "Mr. Kuczynski is now really quite old, whereas Keiko is young, she's a mother, and she's a fighter."
Kuczynski wouldn't dispute that description. His campaign argument, in fact, echoes it. As he puts it, "Peru is highly volatile. Our strategy is to show we're the calm guys."
Before it's here, it's on the Bloomberg Terminal.
LEARN MORE