MSCI Optimism Revives China Stocks With Biggest Gain Since March
Goldman Sachs raises odds of MSCI inclusion to 70 percent

Investors undeterred by sudden plunge in equity-index futures
Chinese stocks were shaken out of their May torpor after Goldman Sachs Group Inc. said it was likely the nation's shares would be included in MSCI Inc.'s global benchmark indexes.
The Shanghai Composite Index jumped 3.3 percent at the close for its biggest increase in almost three months. The gains were accompanied by a pick up in turnover, which had fallen to levels last regularly seen in 2014, while brokerages surged. The rally was uninterrupted by a sudden plunge in stock-index futures, which fell by the 10 percent daily limit before snapping back in less than a minute.
The odds of Chinese stocks winning MSCI inclusion have increased to 70 percent from 50 percent just last month, thanks to new rules aimed at curbing trading halts and a clarification by the regulator about beneficial ownership rules, Goldman Sachs said Tuesday. The Shanghai gauge still dropped 0.7 percent in May, extending the world's worst performance this year, amid concern the economic slowdown will hurt earnings and as the yuan heads for its biggest monthly loss since August's devaluation.
"The market is expecting that mainland shares will have a pretty high chance of joining the MSCI's global indexes next month," said Wang Zheng, Shanghai-based chief investment officer at Jingxi Investment Management Co.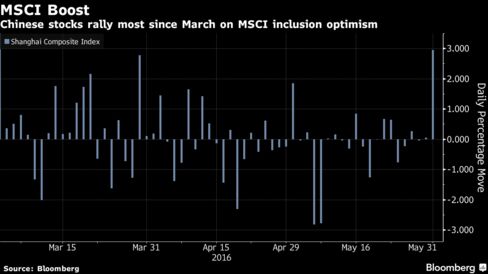 The Shanghai gauge last traded at 2,916.62. Hong Kong's Hang Seng China Enterprises Index advanced 0.9 percent, while the Hang Seng Index rose 0.9 percent.
All 10 sub-indexes gained on the CSI 300 Index, which climbed 3.4 percent, unshaken by the intraday move in futures. Contracts on the gauge dropped as much as 10 percent at 10:42 a.m. local time, before recovering almost all of the losses in the same minute.
With an estimated $16 billion of investment flows at stake, Chinese regulators are pushing for the nation's shares to be added to MSCI's global benchmarks. The Shanghai and Shenzhen stock exchanges last week announced new curbs on company trading halts, which were seen by traders as the biggest obstacle to MSCI inclusion, while the China Securities Regulatory Commission said May 6 regulators recognize and respect the rights and interests of foreign beneficial owners of securities.
These steps have addressed two of the issues flagged by MSCI in April regarding the inclusion of China's yuan-denominated stocks, Goldman analysts led by Kinger Lau wrote in a note on Tuesday.
May Selling
The rally comes after a tepid performance for the Shanghai Composite this month. The gauge has barely strayed from the 2,800 level amid speculation state-backed funds were preventing further losses, helping send 30-day volatility on the gauge to its lowest level since December 2014.
It's not just the stock market that's fallen during May. The nation's currency, bonds and equities have all fallen for a second straight month -- the first time that's happened since at least 2006, according to data compiled by Bloomberg. The yuan is down 1.6 percent, while government bonds have fallen the most in 12 months, with the 10-year sovereign yield rising nine basis points. Investors turned more bearish as April economic data trailed estimates and a high-profile warning about China's debt burden by the People's Daily, the Communist Party's mouthpiece, damped hopes for more easing.
Bearish bets in the stock market have also increased. Short interest in one of the largest Hong Kong exchange-traded funds tracking domestic Chinese stocks -- the CSOP FTSE China A50 ETF -- surged fivefold this month to its highest level in a year, according to data compiled by Markit and Bloomberg.
Tuesday's sudden drop in CSI 300 futures was exacerbated by waning volumes, according to Fang Shisheng, Shanghai-based vice general manager at Orient Securities Futures Co.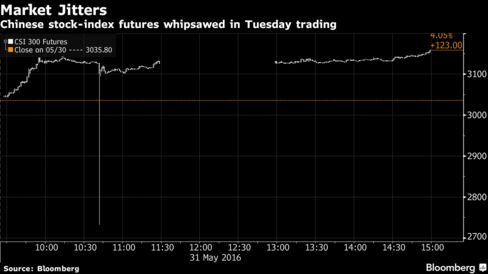 More than 1,500 June contracts changed hands on the China Financial Futures Exchange during the drop and snap back, the highest volume of the day, according to data compiled by Bloomberg. Volume in China's stock-index futures market, which was the world's most active as recently as July, has all but dried up after authorities clamped down on what they deemed excessive speculation during the nation's $5 trillion equity crash last summer.
"Liquidity in the market is really thin at the moment," Fang said by phone. "So the market will very likely see big swings if a big order comes in. The order looks like it's from a hedger."
— With assistance by Shidong Zhang
Before it's here, it's on the Bloomberg Terminal.
LEARN MORE