Is Stockholm's House Party Over?
Biggest mortgage bank warns house prices could start falling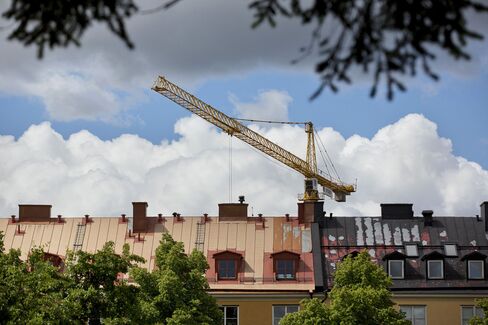 In Sweden's capital, it's so difficult to find a place to live that even Spotify is complaining. A protracted period of negative interest rates, coupled with a chronic housing shortage, has pushed property prices to unprecedented heights and families further into debt.
The European Commission is worried and the Swedish government is mulling what to do about it.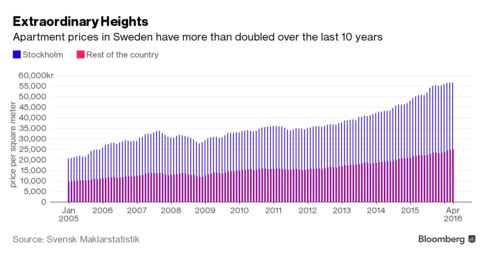 But there are now signs that prices may be approaching their peak and could even fall, according to Jan Ihrfelt, an analyst at Swedbank, the country's biggest mortgage lender.
In Stockholm, the capital, the house price rally is already slowing. One reason is that people simply can't afford them anymore. Ihrfelt says that the share of income spent on mortgage costs in Stockholm is at "critical levels."
"Even at this interest rate level, we can't really see prices going up," Ihrfelt said.
If rates rise and people start paying back more on their loans after stricter amortization rules come into force on June 1, the calculation won't "add up," he said. "The only thing that can make this right is if prices go down."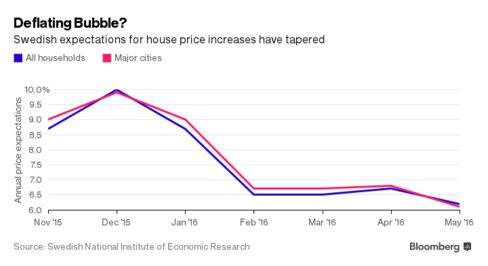 An ultra-expansionary monetary policy by the central bank has helped push mortgage costs down by 25 percent over the past 18 months, according to Nordea. But interest rates offered to new mortgage applicants have stopped falling, adding to the view that the market is set to cool.
Still, debt levels are rising at a pace that worries Sweden's Financial Supervisory Authority. The FSA would like to limit the ratio of households' borrowing relative to income at 600 percent.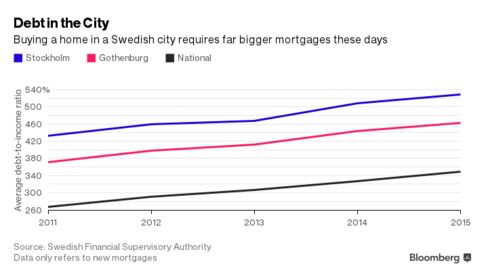 The head of the FSA, Erik Thedeen, is hoping banks will tighten their lending criteria even before such a rule is introduced. A key concern is data showing that the share of borrowers with a debt-to-income in excess of 600 percent looks set to rise to 26% on new mortgages.
"The vulnerability when you have a debt to income ratio of 600, 700, or 800 percent is considerable," Thedeen said, particularly if interest rates start going up again.

One thing's worth keeping in mind when looking at debt levels: Scandinavians can generally afford to get into debt because they enjoy a safety net in the form of the welfare state. When a housing bubble burst in neighboring Denmark, back in 2008, few families actually lost their homes.
Before it's here, it's on the Bloomberg Terminal.
LEARN MORE