The sooner the law is implemented, the better: Western Asset

India needs judicial reforms, insolvency professionals: Fitch
India has a brand new law at its disposal to help clean up $131 billion of impaired debt and avert a crisis at its banks. Implementation challenges are so daunting that the full benefits may be years away.
The law passed by parliament this month calls for the creation of a Bankruptcy Board, which will regulate a new class of insolvency professionals. It also requires adjudication by two agencies: a National Company Law Tribunal, which has yet to be set up, and the Debt Recovery Tribunals, which had 62,000 cases pending as of December 2014 and a disposal rate of about 10,000 cases per year, according to PRS Legislative Research.
Prime Minister Narendra Modi's stimulus push has been thwarted by slowing credit growth as banks turn cautious after their impaired assets swelled to about 14 percent of their total lending as of Sept. 30. The average Indian bankruptcy case now lasts four years, more than twice as long as in the U.S., and investors recover about 26 cents on the dollar, versus 80 cents in America, the World Bank estimates. The headaches investors face in chasing down defaulters has prompted Western Asset Management to give India's junk bonds a cold shoulder.
'Big Hurdle'
"The sooner India can implement its new bankruptcy law, the better it will be for everyone," said Wontae Kim, research analyst at Western Asset Management in Singapore, which manages $436 billion of assets. "The actual implementation versus the idea is going to be the big hurdle. Given the poor prospects for debt recovery from a default in India, we are on the conservative side."
Fitch Ratings said India lacks an adequate framework to resolve non-performing loans in a timely manner. Saswata Guha, an analyst at the ratings firm in Mumbai, said the bill should have been put in place decades ago rather than when the system has hit a crisis.
"The current bill is essentially the current government's answer to help resolve this crisis," said Guha.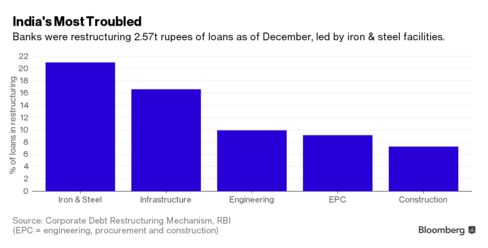 Foreign holdings of Indian government and corporate debt dropped by 67 billion rupees ($1 billion) in the nine days through May 26, the longest stretch of withdrawals since July 2013, National Securities Depository Ltd. show.
"Getting India's bankruptcy code up and running is very important," said Sean Chang, head of debt investment at Baring Asset Management Ltd. in Hong Kong. "India is looking at reform and to do so, these laws need to be in place."
Clearer Path

India boasts the fastest growth rate among the world's major economies, expanding 7.6 percent in the year to March 2016. Yet lending grew 9.2 percent in the 12 months through April 29, compared with a five-year average of 14 percent, central bank data show.
India needs "to ensure quality insolvency professionals come into the business," according to Kalpesh J Mehta, a partner for Deloitte Haskins & Sells LLP's financial-services practice in Mumbai. "Putting this system in place and making it operational could take as much as a year."
India's junk-rated companies have long struggled to access both the rupee and U.S. dollar markets. BlackRock Inc. says that while the new rules give creditors a clearer path for asset recovery, its benefits won't be seen immediately.
"In the long term, it is a positive development for the onshore Indian credit market and does make the market more attractive for offshore investors," said Neeraj Seth, head of Asian credit at the asset manager. "The full implementation is expected to take time and how it's being implemented is very important too."
Previously, companies were identified as ailing if they fail to repay debts for three consecutive quarters. It's difficult to dislodge management control and employees often go unpaid, as in the case of Kingfisher Airlines Ltd. The new law proposes an insolvency resolution plan agreed by 75 percent of creditors, with the priority being to pay staff salaries in case the decision is to liquidate. Failure to reach agreement could see a takeover by a government-appointed management team.
"Meaningful progress can only be made once this is also accompanied by judicial reforms," including more judges and more bankruptcy experts, said Guha at Fitch.
Before it's here, it's on the Bloomberg Terminal.
LEARN MORE