Obama at Hiroshima Raises Profile of Possible Abe Successor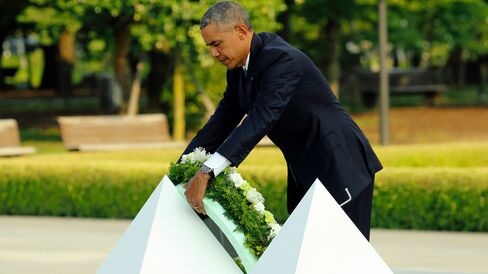 Visit a key achievement for Foreign Minister Fumio Kishida

Kishida leads party faction vying for leadership role post-Abe
When U.S. President Barack Obama laid a wreath at the Hiroshima peace memorial on Friday to honor the 140,000 victims of the world's first atomic bomb attack, one of the Japanese city's best-known native sons was standing nearby -- and in a position to take credit for arranging the historic event.
For Japanese Foreign Minister Fumio Kishida, the first visit by a sitting U.S. president to the site marked a high-point of more than 20 years in politics. Kishida is widely seen as a possible successor to Prime Minister Shinzo Abe, and his role in laying the groundwork for the ceremony will further raise his profile in a country where polls showed the vast majority of voters favored the visit.
"Obama's visit to Hiroshima will be the culmination of the post-war Japan-U.S. relationship. This historic achievement will give Kishida the qualification to become prime minister," said Takashi Kawakami, president of the Institute of World Studies at Takushoku University in Tokyo. "Kishida now needs to make the case that this was his achievement."
He heads the LDP's third-largest faction -- the relatively liberal Kochi-kai -- and gained second place in an October poll by Nippon Television on which minister the public had the highest expectations for. While he's notched up several achievements on the foreign stage, he isn't known for his experience on economic issues.
"He's a little weak on the economy," Kawakami said. "He hasn't really spoken strongly about it."
The bombing of Hiroshima, and days later Nagasaki, helped bring about Japan's 1945 surrender and the end of World War II. The U.S. occupation that followed morphed into an enduring military alliance that is now central to Obama's re-balance to Asia as the U.S. seeks to shore up trade and security ties in the region to counter China's growing economic and military muscle.
'Gut Wrenching'
Kishida, 58, picked his home town as the venue for the gathering of foreign ministers from the Group of Seven nations in April, when he accompanied U.S. Secretary of State John Kerry in placing wreaths at the memorial site. He went with his American counterpart on an unscheduled visit to the city's "atomic bomb dome," the iconic shell of one of the few buildings near the blast to survive. Kerry said his time at the peace park and museum was "gut-wrenching."
"It was Kishida's decision to hold the foreign ministers' meeting in Hiroshima," vice foreign minister Seiji Kihara said in an interview. "Kishida and Kerry trust one another. Kerry's proposal to make an unscheduled visit to the atomic bomb dome was down to his regard for Kishida."
Nuclear-Free World
While talk of a presidential visit to Hiroshima began while the LDP was in opposition, after Obama called in a 2009 speech in Prague for a nuclear-free world, the event bolstered the party's support. More than 90 percent of respondents to a poll published in the Nikkei newspaper Monday said they approved of Obama's visit, and support for Abe's cabinet rose 3 percentage points to 56 percent in the same poll.
Born in 1957 to a wealthy political family from Hiroshima, Kishida earned an undergraduate degree in law from Tokyo's prestigious Waseda University before working at the now-defunct Long-Term Credit Bank of Japan. The married father of three was elected to parliament for the first time in 1993 and has held positions such as minister for consumer affairs, space policy and chairman of the ruling Liberal Democratic Party's Diet affairs committee.
While Kishida has never openly challenged Abe over policy, his faction's more dovish stance may play well in a country where tens of thousands took to the streets last summer to protest against Abe pushing bills through parliament to expand the role of the nation's military. He could also help thaw frosty relations with China.
Replacing Abe
Abe's term as head of the LDP is due to end in 2018, though he could stay on through the 2020 Tokyo Olympics. Whoever secures the party leadership after that would then replace Abe as prime minister. Potential challengers include regional revitalization minister Shigeru Ishiba. A spokesman for Kishida declined to comment on any plan to seek the leadership.
Kishida has sought to ease tensions with China after relations between the region's two biggest economies soured over territorial disputes and lingering resentment over the war. While ties remain strained, Kishida has been working to secure a face-to-face meeting between Abe and Chinese President Xi Jinping at a G-20 summit in China scheduled for September.
The foreign minister has also helped get relations between Japan and South Korea back on track. Late last year, he set up the first summit in more than three years between leaders of the neighboring nations, and brokered a landmark Japanese apology for the Imperial Army's wartime abuse of women -- an agreement described by both sides as an "irreversible" solution to an issue that has dogged bilateral ties for decades.
Slow to Anger
Colleagues say Kishida has a calm demeanor and doesn't try to call attention to his achievements.
"I never saw him get angry," said Shunsuke Takei, a young member of his Kochi-kai faction. When asked whether Kishida needs to do more to promote himself, he said "It is our job to step up Kochi-kai's presence. That will eventually increase Kishida's presence."
Even so, Kishida's gentle nature may be a stumbling block in the rough-and-tumble world of Japanese politics, said Makoto Koga, the previous head of the faction who picked Kishida to lead it in 2012.
"I chose him as my successor because he was a different type from me," Koga said. "His weak point is that he doesn't have any enemies. He is too earnest and loyal."
Before it's here, it's on the Bloomberg Terminal.
LEARN MORE