Abe Invokes Lehman Crisis Comparisons at G-7 Economic Talks
Abe presented data on commodity prices, emerging economies

Some disagreement on risk of a crisis: Japan official
Japanese Prime Minister Shinzo Abe presented documents to his fellow Group of Seven leaders Thursday that he said indicated a risk of the world economy falling into a crisis on the scale of the 2008 Lehman shock if appropriate policy measures weren't taken.
Abe presented documents showing that commodity prices had fallen by 55 percent between 2014 and January 2016, similar to the margin by which they fell in 2008-2009, among other data. The presentation at the summit in Mie Prefecture in central Japan could play into domestic economic policy, as Abe has frequently said that he would proceed with a planned increase in the sales tax in April 2017 unless there is an event on the scale of the Lehman shock or a major earthquake.
Abe told reporters later that the leaders had a "full debate" on economic issues. "We agreed on the perception that we are facing serious risks, that the world economy is facing serious risks," he said.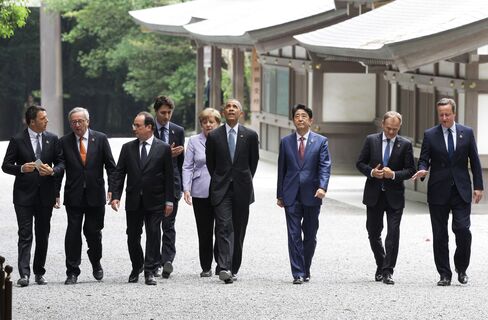 Still, Abe also has convened economic advisory panels where calls for a delay were aired. The narrative among a number of Abe advisers and Japan economists for months has been that the prime minister would use his leadership of the G-7 this year to help shape a decision to put off the boost in the sales tax, which led to a recession when it was raised in 2014.
"Abe is indicating a postponement of a sales-tax hike by using the word Lehman," said Kyohei Morita, chief Japan economist at Barclays Plc. "He is using the meeting to convey his concerns on Japan's economy to Japanese households."
Deputy Chief Cabinet Secretary Hiroshige Seko cited Abe as telling his fellow leaders that he was not pessimistic about the world economy, but that the G-7 must not turn their eyes away from the risks. If the policy response is wrong, leaders must be aware that there is a risk the world economy will fall into a crisis beyond the usual economic cycle, Seko quoted Abe as saying.
Katsuya Okada, leader of Japan's main opposition Democratic Party, said he struggled to understand what Abe was saying, Kyodo news reported, citing his comments at party headquarters.
'Extremely Difficult'
"Many leaders saw the situation in emerging economies as extremely difficult," Seko said. "On the other hand, there was some doubt about Prime Minister Abe's reference to a high risk of a crisis."
German Chancellor Angela Merkel told reporters Thursday that while there was a certain amount of stable growth, "there were also weaknesses among emerging economies -- and a full array of risks."
Seko said only one person disagreed with the use of the word crisis. He also said there was no discussion of Japan's planned sales-tax increase during the G-7 meetings.
The risk as raised by Abe at the leaders summit didn't feature in the summary of discussions from two days of talks in Japan a week ago by G-7 central bank governors and finance ministers.
Before it's here, it's on the Bloomberg Terminal.
LEARN MORE