Ubisoft Said to Seek White Knight to Fend Off Vivendi
Guillemot family, expecting fight for control, seeks backing

Ubisoft said to look for financial or strategic partner
Ubisoft Entertainment is working with financial advisers to find a white knight that will help it fend off the unwanted embrace of media conglomerate Vivendi SA and its chairman, Vincent Bollore, according to people familiar with the matter.
Ubisoft, the creator of video games such as Assassin's Creed, is seeking to identify friendly investors, and will consider private-equity funds or teaming up with a strategic partner already in games, said the people, who asked not to be identified because the plan is private. The founding Guillemot family is also surveying existing shareholders as they seek backing for their resistance campaign, the people said.
The Guillemots are trying to avoid losing a second game maker to Vivendi, which led by Bollore is pushing beyond TV and music through acquisitions. Vivendi is said to have won the backing of a majority of Gameloft SE shareholders in its hostile bid for that mobile-game company, also run by the Guillemots. Vivendi, which says for now it isn't seeking control of Ubisoft, owns about 18 percent of its capital and has demanded board representation.
"How the operation on Gameloft progressed has clearly illustrated the determination of Vivendi to have its own video game unit, whatever the means, whatever the price," said Charles-Louis Planade, analyst at Louis Capital Markets - Midcap Partners in Paris. "Ubisoft is obviously the next target."
The Guillemots have scheduled investor meetings for the coming months to help with their campaign, one of the people said. The family is preparing for a fight that lasts until Ubisoft's shareholder meeting scheduled for September, one of the people said.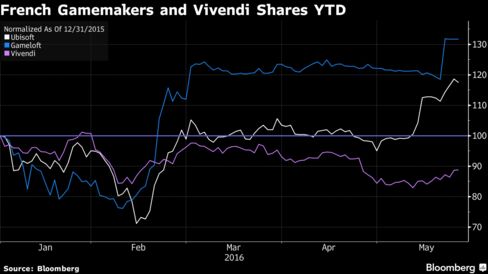 An Ubisoft representative declined to comment on advisers.
Ubisoft rose 2 percent to 31.95 euros at 10:09 a.m. in Paris. The company has a market value of about 3.6 billion euros, making it a much more significant target than Gameloft, valued at about 700 million euros. Gameloft was unchanged at 7.98 euros.
Billionaire Bollore Gives a Glimpse of His Vivendi Endgame: Gadfly
The company said in a statement it is reviewing "all options," including to "talk to potential partners who would have a positive impact on all our shareholders, and who would respect Ubisoft values and what has made us a leader in the video-game industry."
A Vivendi representative declined to comment.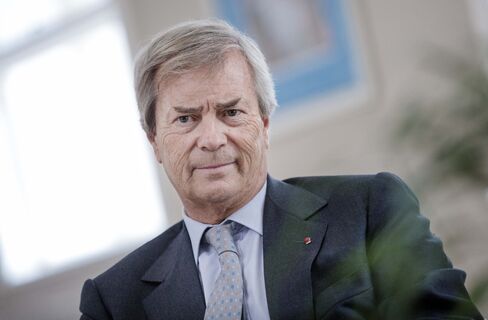 Vivendi disclosed last month it had acquired Ubisoft stock giving it 17.7 percent ownership, and said it intends to continue buying more. Still, Vivendi said it doesn't plan to make a bid or seek control for the next six months.
Bollore's overtures are part of a contest of wills with the Guillemot brothers, who are originally from Brittany like the billionaire suitor. Ubisoft, whose rivals include Activision Blizzard Inc. and Electronic Arts Inc., has said its management is determined to preserve the company's independence.
Before it's here, it's on the Bloomberg Terminal.
LEARN MORE