CYBG Soars in London Trading as CEO Pledges to Eliminate Jobs
Clydesdale and Yorkshire bank owner to reduce expenses

Lender has gained more than 40% since its February IPO
CYBG Plc, the U.K. consumer-lending company sold by National Australia Bank Ltd., rose the most since its initial public offering in February after cutting costs and pledging to further reduce expenses.
The stock climbed as much as 5.5 percent in London trading on Wednesday after the Clydesdale and Yorkshire bank owner gained 11 percent in Sydney. CYBG is working to cut about 500 jobs to help trim annual costs to about 730 million pounds ($1.1 billion), lowering expenses further than originally planned, Chief Executive Officer David Duffy said by telephone on Tuesday.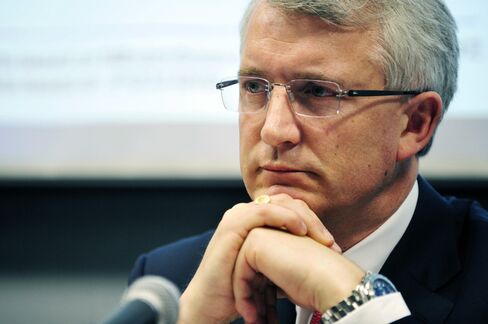 The 178-year-old lender is the largest publicly traded independent bank seeking to win a bigger market share in Britain. The stock has gained more than 40 percent since National Australia Bank uncoupled from the U.K. consumer bank and took CYBG public in Sydney and London after years of losses and costs tied to past misconduct.
"This is delivering on our targets," Duffy said in the interview. "We're also revising down our guidance of cost because we've gathered some really good momentum amongst the team."
CYBG is targeting a headcount of about 6,500 employees for the end of its fiscal year in September, down from just over 7,000 at the end of March 2015, Duffy said. About 150 employees will leave in a voluntary program in the second half, while the company will provide a strategy update in September focusing on its growth, cost cutting and capital efficiency.
The shares were up 4.4 percent to 257.75 pence at 9:40 a.m. in London.
Before it's here, it's on the Bloomberg Terminal.
LEARN MORE