Brazilian Stocks Gain After Temer Scores First Congress Victory
Legislators approve request to change 2016 budget target

Ambev and Vale contribute most to gains in Ibovespa index
Brazil's stocks rose after the new government scored its first victory in Congress, fueling optimism that more measures aimed at shoring up finances and restoring growth will be approved. The real fell.
Lawmakers in a joint session of Congress supported legislation that allows the government to post a budget gap before interest payments of 170.5 billion reais ($47.5 billion) in 2016, rather than a primary surplus as proposed by the previous administration. Had lawmakers rejected the request, the administration would have been forced to drastically cut spending and shut down many government services in order to meet the original goal.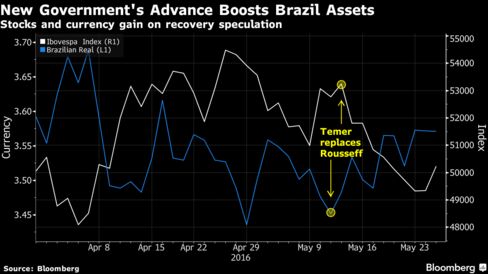 Traders have piled into Brazilian assets this year on speculation that a change in the administration would end a political crisis that has prevented the approval of measures to stimulate Latin America's largest economy, facing its worst recession in a century. Improving fiscal accounts is key for the government after the country lost its investment-grade credit rating last year. The budget target win in Congress is seen by analysts and traders as an important signal that acting President Michel Temer, who replaced Dilma Rousseff on May 12, can garner support for legislation.
"This first win is a positive signal, which gives the new economic team time to work on the recovery strategy," Paulo Henrique Amantea, an analyst at the brokerage Guide Investimentos, said from Belo Horizonte, Brazil.
The Ibovespa advanced 0.3 percent to 49,482.86 on Wednesday, led by brewer Ambev SA and mining company Vale SA. The real declined 0.3 percent to 3.5835 per dollar, after rising as much as 0.5 percent before demand for dollars in the domestic market pressured the currency, traders said.
One-month implied volatility on the real fell 0.17 percentage point to 18.67 percent. The sentiment versus the greenback, as seen in the two-week 25-delta risk reversal, hit 2.19 percent in favor of real calls over puts on Wednesday, the most bearish level among major currencies tracked by Bloomberg. That is still down from the 2.78 percent level on April 15.
Temer said on Tuesday he'll ask Congress to limit subsidies and approve a cap on government spending. He also suggested he could shut down Brazil's sovereign wealth fund and improve corporate governance at public pension funds and state-run companies.
Swap rates on the contract maturing in January 2018, a gauge of expectations for interest-rate moves, rose 0.06 percentage point to 12.93 percent. The cost of hedging Brazil's sovereign debt against losses using credit-default swaps dropped 4.1 basis points to 351.6 basis points.
Before it's here, it's on the Bloomberg Terminal.
LEARN MORE