Oil Traders Are Borrowing From Banks to Store Crude at a Loss
The supply glut floats on.
The waters between Singapore and Malaysia used to heave with wooden ships carrying exotic spices. Now the Straits of Malacca are filled with vessels carrying a very different sort of commodity.
Oil traders awaiting a recovery in crude are turning to floating storage after benchmark Brent prices more than halved over a span of two years, according to Morgan Stanley analysts led by Adam Longson.
Unlike previous oil storage trades, however, this one is unusual in that current oil prices and storage costs ought to make it unprofitable. Morgan Stanley estimates that the one-month Brent storage arbitrage currently produces a loss of $0.48 per barrel, while its six-month equivalent loses $6.11 per barrel.
That suggests "no incentive to store oil on ships," the analysts write. "Yet, banks are seeing a sharp uptick in interest to finance storage charters. This storage is not happening for profit. Rather, the market is looking for places to store oil. To profit, traders need to hope for oil prices to rise enough to pay for the new debt incurred for this storage."
The prospect of debt-fueled oil storage trades may raise concern should crude prices fail to rise enough to offset costs. Moreover, the 'Singapore supply glut' means the recent price rally may prove fragile.
"The increase in floating oil comes despite disruptions in the Atlantic Basin and an out-of-the-money floating storage arb[itrage], suggesting markets are not as healthy as sentiment suggests," the Morgan Stanley analysts write. "It also highlights the speculative nature of much of the oil bounce this year."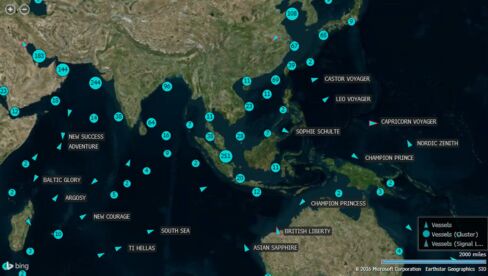 Before it's here, it's on the Bloomberg Terminal.
LEARN MORE