Fed's Harker Sees Two to Three Hikes in 2016 as Prices Gain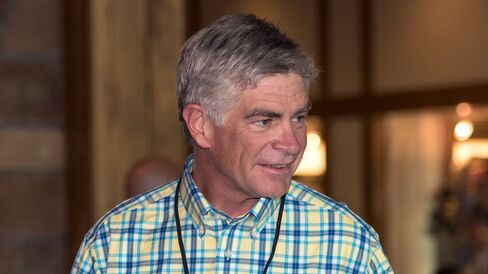 Harker says higher oil, weaker dollar should help inflation

Says June hike approrpriate if economy meets his outlook
Federal Reserve Bank of Philadelphia President Patrick Harker said that he could see two to three rate hikes in 2016 and that prices will return towards the central bank's inflation target over the medium term.
"Although I cannot give you a definitive path for how policy will evolve, I can easily see the possibility of two or three rate hikes over the remainder of the year," he told an audience Monday in Philadelphia.
Harker later told reporters that "if the data comes in and it's not that consistent with my view of the strength in the economy, then I would pause, but otherwise, I think a June rate increase is appropriate." The policy-setting Federal Open Market Committee next meets June 14-15 in Washington.
In his speech to the Bond Club of Philadelphia, Harker emphasized that the U.S. has continued to grow in spite of global headwinds and he called the labor market "extraordinarily dynamic." His remarks follow several other speeches by Fed official emphasizing the possibility of a rate increase next month.
"If the economy follows the path I expect it to follow, monetary policy will be overly accommodative by historical standards," Harker said. "That will set in motion the possibility of another risk, which is accelerating inflation and the need for aggressive policy actions."
The Philadelphia Fed chief, who votes on policy next year, said that he expects rate increases to proceed gradually because it may take time for inflation to move up in a sustainable way, and because the neutral fed funds rate -- the rate that neither stokes nor hampers growth -- has probably moved down relative to the past.
On inflation, which has consistently undershot the Fed's 2 percent goal, Harker argued that the "math is in our favor" as energy prices rebound and dollar strength abates.
"I believe that, once energy prices stabilize and start reversing, inflation will return to our 2 percent target by sometime next year," he said.
Before it's here, it's on the Bloomberg Terminal.
LEARN MORE