U.S. Stocks Retreat on Fed Rate Uncertainty as Crude, Gold Drop
Apple leads tech shares higher after iPhone production report

Most Asian index futures signal losses; iron ore slumps
U.S. stocks slipped amid a retreat in crude oil, as investors awaited more clarity on the timing of the next potential rate increase from the Federal Reserve and the outlook for American inflation.
Losses in the S&P 500 Index accelerated in the final 15 minutes of trading after a lackluster session that saw equities swing between gains and losses. The dollar advanced against the Canadian and Norwegian currencies, while gold capped its longest slump in more than two months. Oil fell for a fourth straight day as Canadian producers worked to resume operations after wildfires. Most industrial metals also slipped, and iron ore tumbled.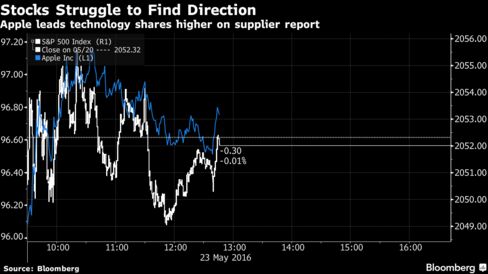 Fed speakers and economic data are being closely scrutinized this week after minutes of the U.S. central bank's April meeting indicated a rate hike was on the table for June. With Fed officials continuing to hint that an increase to key borrowing costs may be looming, traders have boosted the probability of higher rates next month to 32 percent, up from 4 percent a week ago. Still, the odds continue to favor the Fed standing pat with Britain to vote on its European Union membership a week after the central bank's June meeting and concerns over China's slowdown and corporate debt load persisting in global markets.
"The market is just trying to digest what the Fed mentioned in the minutes last week," Mark Kepner, managing director and equity trader at Themis Trading LLC in New York, said by phone. "Everyone is going to be looking at what's coming out this week with housing, PMI and wages especially."
Stocks
The S&P 500 slipped 0.2 percent to 2,048.04 as of 4 p.m. in New York, ending near the lows of the session amid trading volumes that were 19 percent below the 30-day average. The U.S. benchmark has gone more than a year since reaching its last record as the seven-year bull market continues to lose steam amid concern economic stimulus is fading.
Defensive shares led declines, with utilities and phone stocks falling at least 0.6 percent. Energy producers dropped 0.3 percent amid the decline in crude futures.
Apple Inc. climbed 1.3 percent after Taiwan's Economic Daily News reported that the iPhone maker has asked suppliers to prepare production for a new version of its smartphones. Monsanto Co. jumped 4.4 percent after Bayer AG disclosed an unsolicited $62 billion all-cash offer for the company. Bayer slumped as much as 6 percent in Germany.
Investors will parse data this week on manufacturing, housing, consumer sentiment and growth for clues as to whether the U.S. economy has strengthened enough to handle higher borrowing costs. A reading on manufacturing in May out Monday came in below economists' forecasts, slipping to the lowest level since September 2009 with factory orders at the weakest level this year.
The Stoxx Europe 600 Index fell 0.4 percent. Data showed growth in the euro area's private sector unexpectedly slowed in May, signaling that the region won't maintain the strong pace of expansion recorded at the start of the year.
The MSCI Emerging Markets Index added 0.5 percent, with Taiwan's Taiex jumping 2.6 percent, the most in eight months. Apple vendors Taiwan Semiconductor Manufacturing Co. and Hon Hai Precision Industry Co. were the biggest contributors to the gains.
Futures on Asian indexes mostly signaled losses for Tuesday, with contracts on Japan's Nikkei 225 Stock Average down at least 0.5 percent in Osaka and Chicago. Futures on stock gauges in South Korea and Hong Kong dropped at least 0.2 percent in most recent trading, while those on the FTSE China A50 Index added 0.3 percent.
Currencies
The dollar meandered near an almost two-month high versus major peers as speculation persisted that the U.S. may raise rates as soon as next month. The currency paused after its longest streak of weekly gains since January, as more Fed officials appeared to back the case for higher borrowing costs this year.
Fed Bank of St. Louis President James Bullard said he doesn't see the U.K. vote on EU membership influencing the decision. Separately, the San Francisco Fed's John Williams said two to three rate increases this year are still "about right."
The dollar added 0.2 percent to C$1.3143 and rose 0.3 percent versus the Norwegian krone amid the drop in oil and other commodity prices.
The yen appreciated 0.8 percent to 109.24 per dollar after Finance Minister Taro Aso raised the prospect of currency intervention in a meeting with U.S. Treasury Secretary Jacob J. Lew, who said yen moves haven't been overly volatile.
Brazil's real led losses among major currencies. A report that Planning Minister Romero Juca had suggested ending the nation's probe into graft called into question the new government's pledge to root out corruption. The real dropped 1.5 percent to 3.5727 per dollar.
A measure of implied price swings in the pound over the next month climbed to the highest level since February as the referendum on EU membership draws closer.
Bonds
Yields on 10-year Treasury notes were little changed at 1.84 percent, while two-year rates climbed two basis points, or 0.02 percentage point, to 0.90 percent.
Greek bonds jumped, with 10-year yields dropping to their lowest point since November, after lawmakers approved additional austerity measures required to unlock more emergency loans from the euro area.
Brazilian companies are poised to ratchet up bond sales overseas after Petroleo Brasileiro SA ended an 11-month debt drought last week. Businesses may raise as much as $3 billion in international debt offerings in the next 1 1/2 months as the change in government helps drive down borrowing costs. Russia is venturing into the international bond market on its own after being shunned by the U.S. and European lenders it approached to underwrite its first Eurobond since sanctions were imposed two years ago.
Commodities
West Texas Intermediate crude dropped 0.7 percent to settle at $48.08 a barrel as cooler weather helped control a blaze in the heart of Canada's oil-sands region, allowing Suncor Energy Inc. and Syncrude Canada Ltd. to start getting back to work. Exports from Iran could surpass 2.2 million barrels a day by midsummer, the state oil company told the Mehr news agency.
Gold capped the longest slump in more than two months, falling for a fourth day as renewed speculation over the U.S. rate outlook dimmed demand for precious metals as a store of value. Gold futures dropped 0.1 percent to $1,251.50.
Nickel led declines on the London Metal Exchange, sliding 2 percent as copper, lead and zinc lost at least 0.4 percent. Iron ore with 62 percent content sank 6.7 percent Monday to $51.22 a dry metric ton, taking losses from the peak of more than $70 in April to 27 percent, according to Metal Bulletin Ltd.
Before it's here, it's on the Bloomberg Terminal.
LEARN MORE