A Fool's Bet Against the Kentucky Derby Champ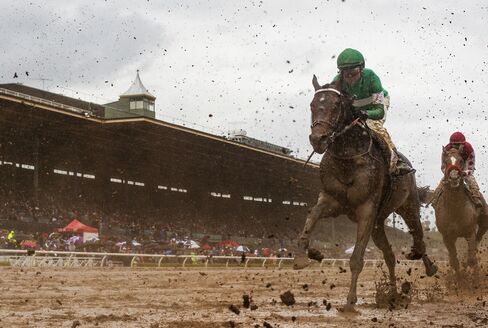 Nyquist dominated in Kentucky but is in a tricky spot Saturday

Rain and torrid early pace could play key roles in Preakness
As a young gambler schooled in the fine arts of the Daily Racing Form, I was taught to hate the kind of wager I'm about to make in the Preakness Stakes: a big bet on a horse that had absolutely everything go his way in his last two races.
The horse is Exaggerator. And it's undeniable he's been fortunate of late. He's leisurely jogged along at the back of the pack as the early leaders got caught up in intense speed duels that left them gasping for air and leg-weary at the end. When Exaggerator came calling late, most of them had no answer. He coasted to a resounding win in the Santa Anita Derby and then a second-place finish, behind Nyquist, in the Kentucky Derby two weeks ago.
The problem for a value-seeking gambler is that the circumstances behind those two big efforts -- the hot early paces -- make the horse look better than he is. That optical illusion lures more money from the gambling public, which in turn drives down his odds and erodes the potential returns to be made wagering on him.
So why bet Exaggerator on Saturday?
Because the Preakness, it turns out, could actually set up even better for the long, lanky brown colt. Of the 11 horses entered in the race, seven of them are high-energy speedballs that are looking to storm to the front of the pack from the moment the gates fly open. That's a lot. Figure a typical race of this size would have a few contenders that fit that profile. Four or five would constitute a speed-heavy race. Throw seven in the mix and the potential for a supersonic pace grows measurably.
Among those seven front-runners is the big horse himself, the undefeated Nyquist. He proved he was clearly superior to his rivals, including Exaggerator, in Louisville, scoring a victory that was more convincing than the one-length final margin would indicate.
Exacta Wagers
But he's in something of tricky spot on Saturday, breaking from post position three, where he'll be surrounded by speedy rivals. It's something of a damned-if-you-do, damned-if-you-don't situation for his jockey Mario Gutierrez. Hustle Nyquist right out to the lead and he could get pressured into that torrid early pace by the other front-runners; take him back and he'll likely get stuck behind horses for the first time in his career. Some handicappers don't make much of this. I do. Horses aren't naturally inclined to run through the cloud of dirt that's kicked in their eyes, nose and mouth by the leaders. It's an acquired skill. Some never handle it.
So while Nyquist appears to be the standout athlete in this crop of three-year-olds, I have no interest in betting him at odds of around 3-5 (where a $5 wager turns a $3 profit if successful). Anticipated odds of about 3-1 on Exaggerator, while not an incredible value, appeal to me more.
So I'll bet him to win and, to try to juice returns a bit, will pair him up in exacta tickets with another late-running horse, the longshot Cherry Wine, as well as the uber-talented but lightly-raced Stradivari. The others seem overmatched in here.
One last thing. Rain is forecast for Baltimore on Saturday. And wet dirt, it should be noted, stings a lot more than dry dirt. That'll make Nyquist's new challenge even tougher. Exaggerator, meanwhile, is a proven mud-loving fool. Just look at the picture of him above, cruising along as the sludge and muck fly all around. That was in the Santa Anita Derby. He won by six lengths that day. Let it rain.
(David Papadopoulos, a managing editor at Bloomberg News, has been following thoroughbred racing for more than two decades and is a voter in the industry's annual Eclipse Awards.)
Before it's here, it's on the Bloomberg Terminal.
LEARN MORE