Japan's Gaming Companies Pile Bets Into Virtual Reality Startups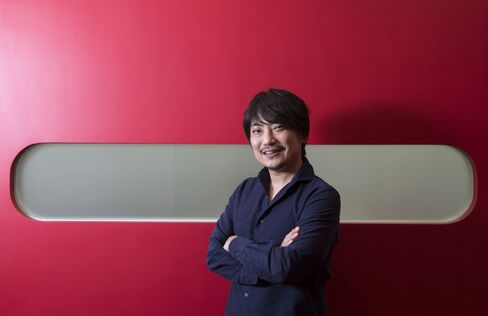 After smartphone boom, mobile game makers looking for next hit

New venture funds join rush into virtual-reality startups
Hironao Kunimitsu turned Gumi Inc. into a 32 billion yen ($291 million) company by betting early on smartphone apps. Now, he's pouring money into virtual reality, on the hunch that we're on the cusp of the next tech boom.
The chief executive officer of the mobile-games company isn't alone. Other Japanese peers, including Gree Inc., invest in the sector. Some of the biggest names in technology, including Facebook Inc. and Microsoft Corp., have committed billions of dollars to the business of simulating reality, with research firm Gartner predicting virtual-reality headset sales will top $20 billion by 2020.
"This really feels like 2007 all over again," Kunimitsu said, referring to the iPhone's debut year and the start of the smartphone era. "There will be a lot of acquisitions in this space as global tech giants slug it out."
After helping to pioneer the Japanese model of making money with free-to-download titles, Kunimitsu is now itching to back early-stage startups. To do so, he established the $50 million Venture Reality Fund in November.
The fund, which will invest about $200,000 to $2 million on each deal, recently participated in a $6 million round, led by Draper Fisher Jurvetson, for Visionary VR, a developer of tools for virtual-reality environments. The Los Angeles-based startup is working on storytelling software that helps to address unexpected challenges, such as what to do when users miss a key moment because they were looking in the wrong direction inside a virtual world.
It's these kind of tools that the fund will target. Given that mass adoption is still years away, Kunimitsu says there's ample opportunity to invest in the basic building blocks of virtual-reality technology. The industry is at the same point that smartphones were almost a decade ago, with plenty of opportunities right now to invest in virtual-reality hardware and software before they become mainstream.
Gumi's partners in the fund are Marco DeMiroz and Tipatat Chennavasin, both former gaming executives. As managing director of Evolution Media Partners, Demiroz led its investment in JauntVR, whose software was included with Facebook's Oculus headset when it shipped in March.
Kunimitsu isn't the only Japanese investor in virtual reality startups. Mobile-game maker Colopl Inc.'s $50 million VR fund led a $11 million investment round in Fove, which is working on a headset that can track a user's eye position. Gree introduced a $12 million fund in April focused on early stage software and content startups in North America. In total, investments in virtual-reality ventures have amounted to $1.08 billion so far this year, surpassing the total for 2015, according to CB Insights.
It's no coincidence that the latest generation of Japan's gaming companies are shifting their focus to virtual reality. While iconic publishers such as Nintendo Co., Sega and Namco dominated the industry two decades ago, it was upstarts like Gumi and Colopl that foresaw the potential in smartphones.
"The companies that won in mobile are not the ones who were winning during the PC era," Kunimitsu said.
Apart from Facebook and Microsoft, HTC Corp., Sony Corp. and Samsung Electronics Co. are working to build consumer headsets as they seek new sources of revenue outside the maturing smartphone industry. Still, not everyone within Japan's mobile-gaming community believes in the promise of virtual reality. DeNA Co., an early mobile Internet pioneer and Nintendo's smartphone game partner, has no plans for investing in VR, according to founder Tomoko Namba.
"VR experiences now already deliver a whole new level of excitement and elation, but it's difficult to imagine someone spending considerable time doing it," Namba said, as she mimicked the discomfort of putting on a headset. "While it will most definitely become a large market, it will continue to pale in comparison to that for casual games on smartphones."
While Japan's mobile-gaming companies have long been the envy of the industry for their ability to generate revenue from games, the intense competition and fast pace of change explains why they are so keen to jump onto the virtual-reality bandwagon. DeNA and Gree dominated gaming on feature phones, only to be overtaken by Colopl and other newcomers as users shifted to smartphone apps.
"Mobile gaming companies have a more acute sense of crisis," said Makoto Itoh, a Tokyo-based evangelist for game engine maker Unity Technologies. "They invented monetization techniques that made mobile games profitable, but no one knows how to make money with virtual reality yet. That's why they are getting in early."
Before it's here, it's on the Bloomberg Terminal.
LEARN MORE