Draghi Reaches ECB Stimulus Milestone With Long Road Ahead
Central bank's balance sheet set to pass target set in 2014

With euro-area inflation lacking, ECB isn't ready to slow down
Mario Draghi is discovering that the European Central Bank's purchasing power isn't as strong as he had hoped.
QuickTake Europe's QE Quandary
Less than two years since the ECB president said he would boost the institution's balance sheet to 3 trillion euros ($3.4 trillion) to revive inflation, he has reached that way-point and is on the verge of setting a new record. Unfortunately, inflation has only worsened.
The disappointing outcome so far -- partly the result of an unforeseen plunge in oil prices and a China-led slowdown in the global economy -- suggests the central bank's asset base will rise further before consumer-price growth is back in the comfort zone. It's also a cautionary tale against setting out policy milestones in an era where monetary instruments are struggling to succeed. A spokesman for the ECB declined to comment.
"The effectiveness of the tools, certainly the signaling capacity of the ECB, isn't what they anticipated it would be," said Karen Ward, an economist at HSBC Holdings Plc in London. "It would have been worse if they hadn't done it, and the external environment has blunted the effectiveness. But we're increasingly seeing that many of the problems in Europe can't be fixed with monetary policy."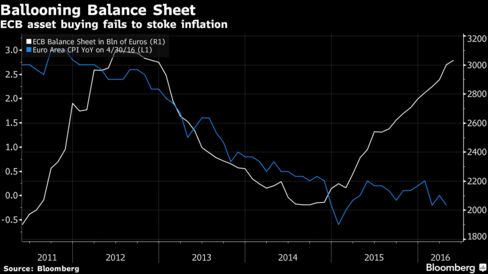 Draghi's pledge dates back to September 2014, at a press conference in Frankfurt after the Governing Council cut interest rates and decided to start a private-sector bond-buying program, adding to a previously announced bank-lending plan. While the opening statement, which is agreed by the council, referred only to the measures having a "sizable" impact on the balance sheet, the president went further when asked what that meant.
The ECB aimed to "significantly steer the size of our balance sheet toward the dimensions it used to have at the beginning of 2012," he said. He repeated the line in testimony to the European Parliament in November 2014, and it was in the opening statement for his December policy press conference.
The wording signaled assets would rise to more than 3 trillion euros from 2 trillion euros at the time. They reached 3.03 trillion euros as of May 13 this year and look set to pass the June 2012 high of 3.1 trillion euros within weeks.
Yet the inflation rate, already a worryingly weak 0.3 percent in September 2014, slid as low as minus 0.6 percent by the following January and was minus 0.2 percent last month. The ECB's goal is to keep consumer-price growth just under 2 percent and its own forecasts show the undershoot will continue for at least another two years.
Not Sensible
Draghi's decision to set the target for the balance-sheet expansion didn't go down well with some of his colleagues at the time. One governor almost spilled his coffee on hearing the comment, according to a person with him at the time of the announcement. Executive Board member Benoit Coeure said in November 2014 the goal was "not an aim in itself." Bundesbank President Jens Weidmann told reporters the following month that he didn't consider it "a sensible monetary policy strategy."
In retrospect, the September 2014 press conference was a good example of how the ECB has had to go further than it expected to battle the threat of deflation. Draghi also said interest rates were "at the lower bound, where technical adjustments are not going to be possible any longer." They were cut again in December 2015 and March 2016.
The same media briefing saw the release of ECB economic forecasts which predicted inflation would rise to an average 1.4 percent in 2016. The projection as of March this year was that it'll be just 0.1 percent, climbing to 1.6 percent in 2018.
Useful Lesson
One factor may be a lack of economic reforms by governments. In 2014, Draghi was saying they "clearly need to gain momentum." This year he called them "essential" and the Governing Council criticized the pace of implementation at both European and national levels.
"I'm actually most concerned about incentives," Governing Council member Ardo Hansson, Estonia's central-bank governor, said at a conference in Slovenia on Friday. "If you want investment up you need more animal spirits. How do you get animals spirits? You reform and you make enterprises feel a level of excitement about future prospects."
Coeure, who is attending the Group of Seven meetings in Japan with Draghi, said in an interview published Friday that monetary policy "cannot create long-term growth." The responsibility for that lies with democratically elected governments, he said.
Meanwhile, the pace of balance-sheet growth picked up with the start of quantitative easing in March 2015, and again in April this year when the program was expanded by a third to 80 billion euros a month. QE is currently set to run through March 2017, though economists surveyed by Bloomberg have predicted it'll probably be extended. A second series of ultra-cheap loans to banks will start in June.
No Limit
In short, there is probably plenty of growth in assets to come. They could approach 4 trillion euros by March, according to Nick Matthews, head of European economic research at Nomura International Plc.
Just don't expect Draghi to put a final number on it. He hasn't explicitly mentioned the balance-sheet goal at his press conferences in more than a year, and in December he said there "cannot be any limit" to how far the ECB is willing to deploy its instruments.
"There's probably a lesson there in terms of sometimes it's best to either keep the door open or at least retain some level of constructive ambiguity," said Matthews. "Particularly when we are in an uncertain world and having recourse to unconventional and specifically-tailored policy instruments."
Before it's here, it's on the Bloomberg Terminal.
LEARN MORE