Skimping on Water in a Desert May Come Back to Haunt Miners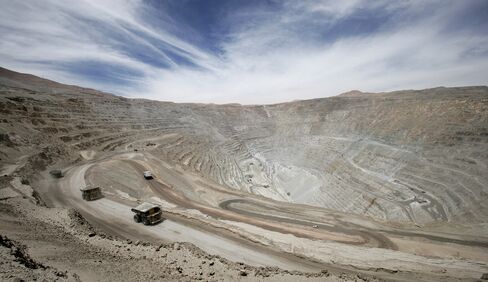 Desalination plants among projects cut after metal price slump

Chile water use is world's most costly with pipes to the sea
In the high desert mountains of Chile, home to some of the world's biggest copper deposits, mine owners have cut investment in one resource they can't live without: water.
Billions of gallons are needed to extract mineral from dirt that contains less than 1 percent copper. State-owned Codelco used enough water last year to fill London's Wembley Stadium 44 times, and an increasing amount is being piped from the Pacific to mines more than 3,000 meters (9,800 feet) above sea level.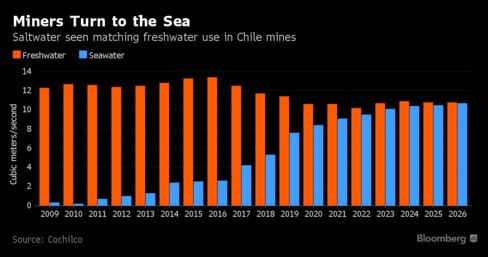 But the commodity slump forced metal producers to cut spending. In Chile, at least five desalination projects were put on hold or downsized in the past four years, even as water demand rose and a drought eroded supplies. Aging mines contain less copper, so more ore has to be processed to get the same amount of metal, and local communities are competing with the industry for drinking water and agriculture. That could spell trouble once the metal market recovers.
"If it takes them too long to start building these plants, they risk not being prepared to respond," said Jacques Wiertz, a University of Chile professor who specializes in desalination and is coordinating a conference this week in Santiago on water use in the industry. "Miners in the north have a lot of pressure to optimize the use of water, given scarcity."
Recovery Predicted
Chile's copper agency, Cochilco, predicts the industry will need a lot more seawater, which means more pumps, treatment plants and pipelines that can stretch more than 150 kilometers (93 miles) and must climb over arid, rugged terrain into the Andes Mountains. In the next decade, half the water used will come from the ocean, compared with 15 percent now, Cochilco said.
With some water projects stalled or downsized, Chile's ability to increase supplies may be restricted once prices start to recover, which Codelco says may begin as early as next year. A shortfall of the metal should emerge later this decade, according to Rio Tinto Group, while Freeport-McMoRan Inc., the largest publicly traded copper producer, sees the market in deficit as soon as next year.
Copper prices on the London Metal Exchange fell as much as 58 percent from a record in 2011, with three straight years of declines that forced some higher-cost producers to cut output or close mines. The metal has gained about 6 percent since touching a six-year low in January.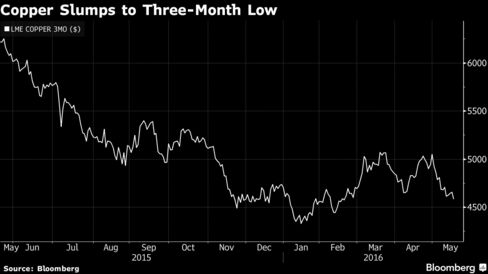 In April, Chile's government cut its forecast of all mining projects over the next decade to about $50 billion, compared with last year's estimate of more than $70 billion. It didn't specify how much of that spending would be in water projects.
Teck Resources Ltd. scrapped its plan to build a plant for the Relincho mine in the Atacama desert after the company signed a joint venture with Goldcorp Inc. to combine operations with the El Morro mine. Teck signed an accord last week to share water resources with Collahuasi in a bid to bring down costs.
Collahuasi, Chile's third largest copper mine, which is owned by Anglo American Plc and Glencore Plc, has put an expansion on hold that included a new desalination plant. All infrastructure associated to Capstone Mining Corp.'s Santo Domingo is also on hold, including plans to extract and pump seawater to the mine, according to a company spokesperson.
Highest Costs
The cost of using seawater in Chilean mines is the highest in the world, according to a study by University of Concepcion Professor Fernando Concha. There are nine plants that pump water from the sea in Chile. Traditionally, the water had to go through the expensive reverse osmosis process, but newer projects are using partially-treated and even raw seawater.
"There are cheaper alternatives, but the problem is if there will be enough investment to develop them," Concha said in the study report.
In Chile, the bulk of the cost of using seawater is not processing, but pumping it to some of the highest mines in the world. Transport represents about two-thirds of the costs of using seawater, and it is difficult to bring it down, Concha said.
Not all companies are cutting back. Codelco is pushing ahead with a desalination plant for its mines in northern Chile, part of an expansion at its Radomiro Tomic mine. The plant will pump 680 liters per second from the sea and is scheduled to be ready in three or four years. It's a big financial burden but "the only option that guarantees water will be available up there," said Alvaro Hernandez, the division's head of water resources.
Drought Lessons
Another miner looking to extract more water from the sea is Antofagasta Plc, which announced on Wednesday that its Los Pelambres expansion project includes a desalination plant. Antofagasta sources about 45 percent of water from the sea, one of the highest ratios in the industry, Chief Executive Officer Ivan Arriagada said.
"I believe most of the mining industry, especially large companies, will see growth in water coming from the sea," Arriagada said in an interview in London. "Certainly that's the direction in which the industry is moving and where things will end up."
A five-year drought in central and northern Chile that ended last year was a reminder of the risks of relying only on freshwater in a part of the country that gets little or no rain. Even if copper demand and prices don't increase in the next few years, the industry's water usage probably will keep rising as ore quality declines.
"Today we need to process more material to obtain the same amount of copper," said the University of Chile's Wiertz. "And water consumption depends on the amount of material."
Before it's here, it's on the Bloomberg Terminal.
LEARN MORE