Global Equities Sink to Six-Week Low as Dollar Rally Hits Metals
Futures indicate 28% chance of a U.S. rate increase in June

Asian index futures signal more losses as dollar holds gains
Global stocks slid to a six-week low, falling with commodities as markets braced for the possibility that the Federal Reserve will raise U.S. interest rates as soon as next month. A gauge of the dollar versus major peers held at its highest level since March.
Wiping out its gains for the year, the S&P 500 pared losses into the close, falling 0.4 percent. The Dow Jones Industrial Average capped a full year since its last record, slipping a third day as Fed officials continued to signal a willingness to tighten policy in June. Treasuries maintained Wednesday's losses, while the dollar jumped against most emerging-market currencies. The greenback's strength saw copper fall to its lowest level since February as gold and silver also slipped. Crops slumped, with wheat down more than 2 percent.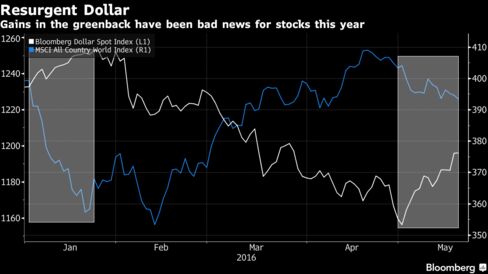 The Fed minutes jolted markets that had until Monday all but ruled out the prospect of U.S. rates being raised in June. Fed Funds futures show the odds of an increase at 28 percent, after tripling to 12 percent on Tuesday as data on American inflation, housing starts and industrial production exceeded economists' forecasts. Markets reacted calmly when the Fed raised rates in December for the first time since 2006, reflecting investor conviction in the ability of the U.S. economy to withstand tighter monetary policy.
"The weakness is a continuation of yesterday and the threat of higher interest rates, either real or perceived," said Terry Morris, a senior equity manager who helps oversee about $3.2 billion at Wyomissing, Pennsylvania-based National Penn Investors Trust Co. "The economy is fragile, and a hike in interest rates could send it over the edge. There's a fear that if rates do go up, the economy won't be able to support it."
A Labor Department report Thursday showed filings for U.S. unemployment benefits declined last week from a more than one-year peak, although they still came in higher than economists had estimated. The Philadelphia Fed business-outlook survey missed forecasts. The latest shift in Fed policy comes ahead of a meeting of the Group of Seven finance ministers, where Japan is likely to push further fiscal spending as the answer to tepid global economic growth.
Stocks
The MSCI All Country World Index fell 0.9 percent to its lowest level since April 5 as of 4:20 p.m. in New York, with energy producers and telephone shares leading declines.
The S&P 500 dropped to 2,040.04, after earlier tumbling as much as 1.1 percent. The U.S. benchmark is now down 0.2 percent in 2016 as its recovery from an almost two-year low reached in February falters.
While industrial and financial shares drove the drop, Wal-Mart Stores Inc. rebounded after better-than-estimated first-quarter results assuaged some fears that the retail industry is mired in a slump. Cisco Systems Inc. rose 3.2 percent after forecasting fourth-quarter sales and earnings that exceed analysts' current estimates.
The Stoxx Europe 600 Index dropped 1.1 percent, with BHP Billiton Ltd. and Rio Tinto Group leading mining companies lower on the commodities slump. The European equity gauge has gone a month without posting a daily gain of at least 1 percent, and is down 4.8 percent from its April 20 peak. Bayer AG tumbled after Monsanto Co., the world's largest seed maker, said it received an unsolicited takeover approach from the German company.
The MSCI Asia Pacific Index declined 1 percent, led by losses in raw-material producers and energy stocks. Tencent Holdings Ltd. posted its biggest drop in three months in Hong Kong after Asia's biggest instant message company said uncertainty about China's economy could cause near-term challenges for its advertising business.
Futures on Asian indexes foreshadowed a day of declines to round out the week, with contracts on stock gauges in Japan, Australia and South Korea slipping at least 0.1 percent in most recent trading. Hang Seng Index futures were down 0.6 percent.
Currencies
The Bloomberg Dollar Spot Index, which tracks the greenback against 10 major peers, rose 0.1 percent, extending gains at its highest level since March 28 after jumping 0.8 percent on Wednesday.
The U.S. currency maintained an advance against the euro after Fed Bank of Richmond President Jeffrey Lacker said a June rate increase is in order with global risks having "entirely dissipated." The yen added 0.2 percent to 109.96 per dollar, following a 1 percent slide on Wednesday.
The pound touched its strongest level since Feb. 4 versus the euro, making it no longer the worst-performing Group-of-10 currency of 2016. Sterling has surged this week as polls signaled a receding risk of Britain leaving the European Union in next month's referendum. Better-than-forecast retail-sales data also bolstered the currency, showing there's still life in the U.K. economy.
The MSCI Emerging Markets Currency Index fell 0.7 percent, taking its retreat in May to 3.2 percent. Russia's ruble and Indonesia's rupiah led declines against the dollar, weakening at least 1.2 percent.
China's yuan declined as much as 0.2 percent in Shanghai's onshore currency market, while it was more volatile offshore after sinking the most since January on Wednesday. The yuan added 0.2 percent to 6.5627 per dollar last session as the resurgent greenback shakes up the People's Bank of China's strategy of keeping the currency steady against the dollar, while weakening it against other major currencies.
Bonds
Government bonds were mixed after falling across major economies in Asia and Europe. Yields on 10-year Treasuries fell one basis point, or 0.01 percentage point, to 1.85 percent, after surging eight basis points on Wednesday as the Bloomberg US Treasury Bond Index slid 0.7 percent after the release of the Fed's minutes.
The Fed is steering the market into line with its views, said John Gorman, head of U.S. debt trading for Asia and the Pacific at Nomura Holdings Inc. in Tokyo.
"They did a very good job," he said. "I'm still not sure they go in June. In my mind, I'm absolutely positive they go in September."
Yields on German 10-year bunds were little changed at 0.17 percent, having earlier reached 0.21 percent, their highest level since May 5. Rates on similar-maturity U.K. gilts held at 1.44 percent, after rising seven basis points on Wednesday.
Commodities
West Texas Intermediate crude slipped 0.1 percent to $48.16 a barrel, still near a seven-month high, as the dollar's rally eased and a flurry of headlines over Nigeria's oil industry bolstered concern about supply. Data Wednesday showed U.S. crude stockpiles unexpectedly increased, keeping supplies at the highest level in more than eight decades.
Copper sank 0.7 percent in a second day of losses, while zinc to aluminum and nickel fell at least 0.4 percent in London. Gold slid to a three-week low as the speculation of the Fed raising rates eroded the metal's appeal as a store of value.
Futures on wheat slid 2.3 percent, while those on corn were down 2.4 percent following a five-day climb. Soybeans dropped 0.4 percent.
"Investors should put their seat belt on because volatility is around the corner," said Chad Morganlander, a Florham Park, New Jersey-based money manager at Stifel, Nicolaus & Co. "There's a fragility to the financial system to the extent that when the dollar starts to strengthen, it affects emerging-market currencies as well as the commodities complex."
Before it's here, it's on the Bloomberg Terminal.
LEARN MORE