Vodafone CEO Sees Shifts in U.K. Market After Blocked Deal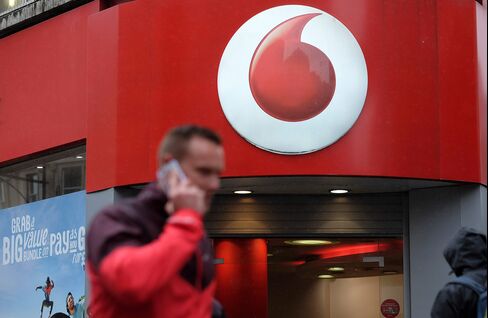 Failure of Three-O2 merger likely to lead to other alliances

'Possibly deals but it's very hard to see who with whom'
Vodafone Group Plc Chief Executive Officer Vittorio Colao, reporting improving results in Europe, said he expected more partnerships to develop among U.K. telecommunications companies after a bid to merge two wireless-phone rivals was blocked by European Union regulators.
"Of course there will be moving parts in the system," Colao said on a conference call with analysts Tuesday after reporting fourth-quarter results that beat analysts' estimates. "My prediction is that there will be commercial alliances, possibly deals, but it's very hard to see who with whom."
Telecom companies are assessing options in the U.K. after the EU rejected CK Hutchison Holdings Ltd.'s $14.5 billion bid for a Vodafone competitor, Telefonica SA's O2. Colao said EU Competition Commissioner Margrethe Vestager was right to block the deal, because it could have lessened competition and complicated network-sharing agreements like the one that Vodafone has with O2.
"It's good to have consolidation but it should not come at the cost of lower competition," Colao said.
Vodafone and other European telecom companies are scrambling to roll out offers that bundle mobile, broadband, fixed-line telephony and television services. Vodafone and cable-TV provider Liberty Global Plc in February agreed to pool their businesses in the Netherlands, after an attempt at a broader agreement fell through.
Vodafone is "always open to discussions," Colao said at a briefing on Tuesday, when asked about the possibility of wider alliances.
Courtship Begins
Liberty Global would also consider a deal with O2 in the U.K., CEO Mike Fries said last week. Xavier Niel's Iliad SA would also have a look if it became available, according to people familiar with the matter.
Sky Plc, the satellite-TV provider planning to offer mobile service in the U.K., would invest in others' deals if it would bring more space on O2's network, said another person, who asked not to be named discussing the plans.
Telefonica, which could also sell shares of O2 in an IPO, is barred from holding any new discussions until the end of next month, unless the deal with Hutchison's Three unit is officially called off before then.
Former Virgin Mobile CEO Tom Alexander is talking to potential backers KKR & Co. and CVC Capital Partners Ltd. to shape an O2 bid, according to people familiar with the situation. O2 CEO Ronan Dunne, who is close to Alexander, is also talking to potential investors, the Telegraph reported this week.
Officials at O2, Iliad, Sky, KKR and CVC declined to comment.
Network Costs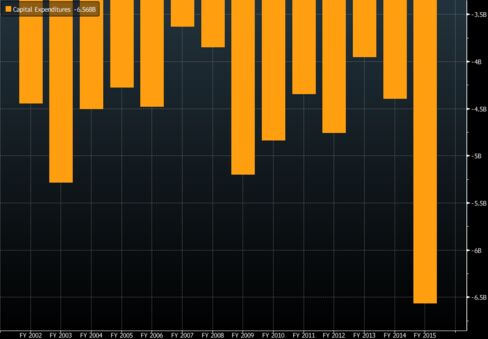 With a two-year, 19 billion pound ($27.5 billion) investment completed, Vodafone is making progress with its "convergence" strategy, increasing the number of broadband and fixed-line customers, Colao said. The company will target capital investments in the mid-teens as a percentage of annual revenue, higher than it had previously forecast, to take advantage of opportunities to accelerate growth, it said.
Slowing down on capital spending now "might be a bit too optimistic," said Bengt Nordstrom, CEO of Stockholm-based consultancy Northstream AB. "Expanding business in fixed, pulling fiber to consumers and enterprises, requires a generally higher capex than mobile."
European Momentum
The company reported quarterly revenue growth on its network in Europe for the first time since December 2010, as business improved in Italy and Germany. Competition remains tough in the U.K., where fixed-line operator BT Group Plc in January completed its acquisition of mobile carrier EE.
Colao said any talks with potential partners would be influenced by a regulatory review of the U.K.'s principal broadband network, owned by BT. Rivals like Vodafone say they want better access to provide consumers with converged services.
Vodafone and other BT competitors sent a letter to the U.K. regulator, Ofcom, this week urging that it require BT to split off the broadband network into a separate company. Unless the outcome of the review is "deep and decisive," he said, Vodafone and other BT rivals will face pressure to combine via mergers, acquisitions or other partnerships.
Colao said the priority for any buyer of O2 should be network investment. A strong network-sharing deal with Vodafone, he said, is needed to maintain competition with EE.
Organic service revenue, which includes customer fees but excludes handset sales, rose 2.5 percent in the three months through March 31, Newbury, England-based Vodafone said in a statement. Adjusted for one-time factors such as the leap year, service revenue rose 1.8 percent.
Analysts surveyed by Bloomberg expected 1.5 percent growth, on average. Vodafone advanced 1.9 percent to 227.95 pence at 4:14 p.m. in London, after rising as much as 3.2 percent earlier. For a quick wrap of analyst commentary on Vodafone today, click here.
For the full fiscal year ended in March, Vodafone posted earnings before interest, taxes, depreciation and amortization of 11.6 billion pounds, below analyst expectations of 11.7 billion pounds. Group revenue fell 3 percent to 41 billion pounds, though organic revenue, which strips out M&A and foreign currency fluctuations.
For the current fiscal year, Vodafone forecast organic Ebitda in a range of 12.4 billion pounds to 12.8 billion pounds.
Before it's here, it's on the Bloomberg Terminal.
LEARN MORE