Obamacare Pushes U.S. Uninsured Rate to Record Low in '15: Chart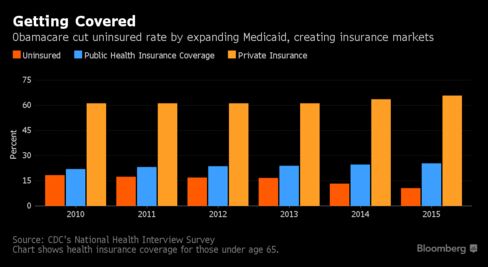 The percentage of people in the U.S. who lack health insurance fell to a record low last year, in large part because of coverage expansions in the Patient Protection and Affordable Care Act. In total, 10.5 percent of Americans younger than 65 lacked health coverage, down from 18.2 percent in 2010, according to a government report. Obamacare, as the 2010 law is known, expanded eligibility for the Medicaid program for the poor and gave subsidies to many other people to help them afford private insurance policies. Other parts of the law also increased the number of people with coverage through work, and let children remain on parents' plans longer.
Before it's here, it's on the Bloomberg Terminal.
LEARN MORE