Iraq Oil Surge Seen Losing Steam Just as Markets Need More
Lower crude prices hamper government's investment in fields

Growth in Iraq oil output to decline in 2017: Energy Aspects
Iraq's oil industry is on a roll. Production has jumped more than 40 percent since mid-2014 and exports are at near-record levels.

It probably won't last. Plunging government revenue is hampering the state's ability to invest, while OPEC's second-biggest crude producer is reaching the limits of its capacity to store and export oil, according to analysts at Energy Aspects Ltd. and FGE. Spending on the country's biggest fields may shrink to as little as $7 billion this year from about $13 billion in 2015 and $20 billion in 2014, Richard Mallinson of Energy Aspects said Monday.
Iraq has boosted output after decades of sanctions, war and under-investment, with international companies such as BP Plc and Lukoil PJSC developing some of the largest deposits in its oil-rich southern region. The country is exporting 3.3 million barrels a day of crude this month from the southern port of Basrah, and it targets keeping shipments at that level for the rest of the year, Deputy Oil Minister Fayyad Al-Nima said in a May 13 interview. Without more investment, these exports are sure to slide, the analysts said.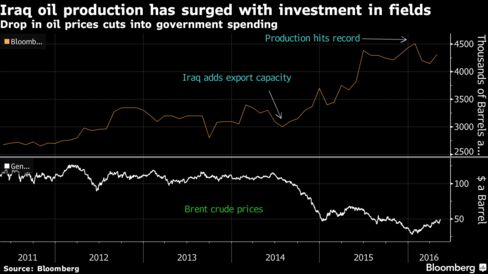 "We're going to see production growth flatten and then start to decline by late this year and into 2017," Mallinson said by phone from London. "What does that mean if Iraq doesn't deliver growth this year? If you were expecting a big increase from Iraq and we don't see that, it will add to bullish sentiment in the market."
While crude continues to flow from Rumaila, West Qurna and other fields in the south, parts of northern Iraq are a battleground for forces trying to dislodge the Islamic State militants who have occupied swaths of territory since 2014. The conflict has prevented the government from exporting oil through its northern pipeline to Turkey, and the collapse of a plan to share oil revenue with the self-ruling Kurds in northeastern Iraq has limited sales from fields in the region.
These challenges, coupled with financial constraints caused by a plunge in crude to half the average price in 2014, threaten to choke off future investment in Iraq. That could help push prices higher later this year just as rising global demand and faltering supply elsewhere in the world eliminate a glut in crude. The Organization of Petroleum Exporting Countries is due to meet next on June 2 to assess markets and output policy.
Crude prices have dropped more than 30 percent since OPEC adopted a strategy in November 2014 to defend its market share and drive out higher-cost production from U.S. shale wells, Canadian oil sands and deep-water deposits. European benchmark Brent crude fell to a 12-year low in January before bouncing back to about $49 a barrel this week. Brent traded as much as 1 percent higher on Tuesday, reaching $49.47 a barrel in London.
Output Target
Iraq pumped a record 4.51 million barrels a day in January and 4.31 million in April, according to data compiled by Bloomberg. Its total production capacity, including in Kurdish areas, is 4.8 million barrels a day, and increasing that to a target of 5 million will depend on oil prices, Al-Nima, the deputy minister, said. Domestic demand for oil as fuel for power plants is also a constraint on exports, Al-Nima said.
Investment in Iraq's southern fields may fall by 30 percent to 40 percent this year as the government, which gets most of its income from oil sales, delays payments to foreign companies and limits future spending, said Tushar Tarun Bansal of FGE in Singapore.
"Investment in new wells isn't getting done, and that will show up in reduced production later in the year," Bansal said. "The market is yet to account for the impact that will have, and it could lead to higher prices."
Before it's here, it's on the Bloomberg Terminal.
LEARN MORE