After 41 Years, Saudi Arabia's Treasuries Holdings Are Unveiled
Kingdom held $116.8 billion as of March, Treasury data show

Figures had been grouped with mostly OPEC nations since 1974
One of the great mysteries of the $13.4 trillion Treasuries market has been solved after more than 41 years.
The Treasury Department on Monday released a breakdown of Saudi Arabia's holdings of U.S. debt, ending a longstanding policy of keeping the figures secret. The stockpile of the world's biggest oil exporter stood at $116.8 billion as of March, up from $82.7 billion two years earlier, according to data disclosed in response to a Freedom-of-Information Act request filed by Bloomberg News.
The sum ranks the kingdom among the top dozen foreign nations in terms of holdings of U.S. debt, and compares with China's $1.2 trillion trove, and $1.1 trillion for Japan.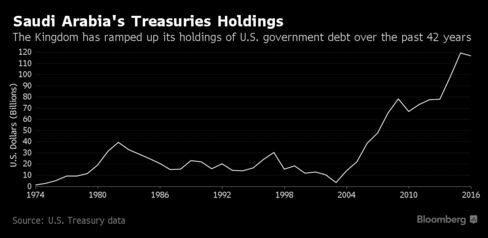 The U.S. had kept the monarchy's holdings under wraps since 1974, an unusual blackout born out of the aftermath of the Arab oil embargo, when a surge in crude prices left the American economy reeling and the U.S. struggling to lure petrodollars. Now the question of Saudi holdings is gaining importance as the monarchy faces fiscal pressure from the decline in oil prices since 2014 and costly wars in the Middle East.
'Very Valuable'
"It is very valuable information," said John Herrmann, director of U.S. rate strategy at Mitsubishi UFJ Securities USA in New York. "It just seemed like it was sort of a gentlemen's agreement not to break it out -- They're an ally. Conceal their holdings, keep them as an ally. It's important to know how much the Saudis have and just monitor it now the way we monitor other accounts."
In the past year, Saudi Arabia burned through 16 percent of foreign-exchange reserves to bridge its biggest budget shortfall in a quarter-century, according to data from the nation's central bank. The signs of strain are prompting concern over Saudi Arabia's potential influence on the world's largest and most important bond market.
Yet Monday's disclosure may bring more questions than answers, because the tally represents only about 20 percent of Saudi Arabia's $587 billion of foreign reserves, and central banks typically put about two-thirds of their coffers in dollars, according to International Monetary Fund data.
'Secretive' Finances
Some nations accumulate Treasuries in offshore financial centers, meaning the holdings show up under data of other countries. For example, Belgium, which held $143 billion of U.S. government debt as of February, is home to Chinese custodial accounts, analysts say.
"The politics has always been secretive, so have their finances," said David Ottaway, a Middle East Fellow at the Woodrow Wilson International Center, a research institute in Washington. The Treasury's figure for Saudi Arabia "is surprisingly not that much."
Related story: Saudi Arabia's Treasuries Tally Poses Fresh Puzzle
Since the U.S. started releasing data on foreign ownership of Treasuries in 1974, the Treasury's policy had been to group Saudi holdings in with 14 other mostly OPEC nations, including Kuwait, Nigeria and the United Arab Emirates, Bloomberg reported in January. The group held $281 billion as of February, down from a record of $298.4 billion in July.
"We recently undertook a thorough data and legal analysis to determine if we could report data in a more comprehensive and transparent fashion," Whitney Smith, a Treasury spokeswoman, said in an e-mailed statement. "We concluded that it was consistent with transparency and the law to disclose the data in a disaggregated fashion."
Tally Question
In a sign that Treasury's figures on the kingdom's ownership may fall short of the full tally, the New York Times reported last month that Saudi officials threatened to sell $750 billion of Treasuries and other assets in the U.S. if Congress enacts a bill allowing the monarchy to be held responsible in American courts for any role in the Sept. 11, 2001, terror attacks.
The Saudi Finance Ministry declined to comment and the Saudi Arabian Monetary Agency couldn't respond immediately to requests for comment.
Following is a table of U.S. debt holdings of the oil-producing nations for which the Treasury released data Monday:
| | |
| --- | --- |
| Country | USD Bln |
| Saudi Arabia | 116.8 |
| United Arab Emirates | 62.5 |
| Kuwait | 31.2 |
| Oman | 15.9 |
| Iraq | 13.4 |
| Qatar | 3.7 |
| Nigeria | 3.1 |
| Bahrain | 1.2 |
| Algeria | 0.7 |
Source: U.S. Treasury Department. Data as of March.
Before it's here, it's on the Bloomberg Terminal.
LEARN MORE