Investec Sees South African Bonds as Resilient in Junk Downgrade
`Deep pool' of local investors to buy if foreigners sell

Country able to absorb foreign shocks, money manager says
South Africa's corporate bond market is better equipped than other emerging countries to deal with a cut in the nation's credit rating to below investment grade, said Hendrik du Toit, chief executive officer of Investec Asset Management Ltd.
The country has a relatively small pool of dollar bonds, compared with rand-denominated debt, and a large domestic money management business with the capacity to invest in the assets, Du Toit said in an interview Wednesday at the World Economic Forum on Africa in Kigali, Rwanda's capital. His company has about $109 billion under management.
"That makes a massive difference in allowing the system to absorb foreign shocks," Du Toit said. "Places that don't have it are the ones that really struggle. It's far less relevant than say, similar emerging countries elsewhere at similar development levels."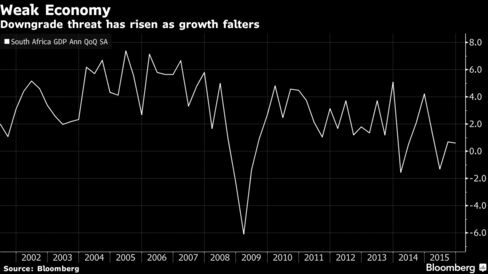 S&P Global Ratings, which has South Africa one level above junk, is due to review its credit rating on Africa's most industrialized economy in June. The rand has tumbled 22 percent against the dollar since the start of last year as growth faltered. Most economists surveyed by Bloomberg earlier this month said they expect an S&P downgrade this year and investors may have already adjusted their holdings of South African assets, Du Toit said.
"In terms of our global emerging market allocations or global allocations, of course what happens if a currency goes the country ultimately gets reweighted in the indexes, or if you're a bond investor you hold less than your benchmarks," he said. "That has probably largely happened."
'Deep Pool'
In the event of a sell off by foreigners due to a cut to junk, there is a "very deep pool" of local investors to buy the assets, Michael Power, a Cape Town-based Investec strategist and money manager, said in the same interview. "South Africa is one of the most resilient" markets to deal with such an event, he said.
Business leaders in South Africa started meeting with the government at the beginning of this year after ratings companies warned of downgrades and President Jacob Zuma shook markets by firing former Finance Minister Nhlanhla Nene in December. CEOs including Nedbank Group Ltd.'s Mike Brown and Discovery Ltd.'s Adrian Gore said they would form groups to contribute expertise and investments to help prevent a downgrade, accelerate small business growth and create jobs.
"The president has realized, clearly realized, that you have to conduct interactive markets and business in a different way and has authorized the people who understood it all along to do that," Du Toit said. "The fact that the top end of South Africa's top companies now have an open door and the kind of interaction with government openly as opposed to behind the scenes sends a very positive signal."
Before it's here, it's on the Bloomberg Terminal.
LEARN MORE