Investment in Marketplace Lenders Has Crashed Since the Start of 2016
A fintech sector falls out of favor.
Add this to the list of reasons why the unexpected exit of LendingClub Corp. Chief Executive Renaud Laplanche came at the worst time possible for marketplace lenders: a new report says private market funding for the nascent industry declined precipitously in the first quarter.
For a while, it appeared that the private markets hadn't quite caught up to the public markets where shares of LendingClub and OnDeck Capital Inc. had both been falling from their initial public offerings, but times have changed. According to a report from PricewaterhouseCoopers LLP's fintech focused platform, DeNovo, marketplace lenders have fallen from one of the most favored fintech sectors to one of the most avoided in the space of just three months.
Venture capitalists and other investors are said to be growing increasingly worried about the impact of rising interest rates, a potential turning of the credit cycle and extra regulation, according to DeNovo. Market turmoil in the first three months of the year and outflows from hedge funds also combined to make life much more difficult for marketplace lenders.
"Marketplace lending was the top trend for the first three quarters in 2015, dropping to the second-largest trend in [the fourth quarter of 2015], and in [the first quarter of 2016] it did not make the top 10," the report said.
Haskell Garfinkel, co-leader of PwC's fintech practice, cited a few key causes for the decline in funding.
"The primary reason for the drop has been the reduction in institutional money, particularly by hedge funds who themselves have had sub-par performance and large capital outflows, so the fair weather friends have left the party," he said. "Certainly a lot of negative publicity isn't helping. Lastly there continues to be the increasingly uncertain regulatory environment."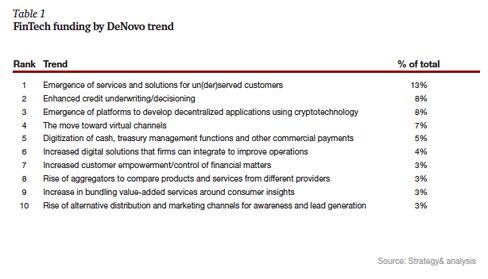 The fall in funding also comes after many marketplace lenders had already tapped investors in 2015, thus potentially reducing the need for new funding this year. SoFi, which specializes in student loans, raised a whopping $1 billion late in the year, for instance.
However, there's a risk that the negative sentiment doesn't turn around as quickly as some marketplace lenders need it to. This could lead to some in the industry taking lower valuations or harsher terms as venture capitalists continue to take a closer look at the potential pitfalls of these businesses.
"Lending is a fundamentally risky business," Matt Harris, a managing director at Bain Capital Ventures, said at the Empire Startups Conference in April. "Marketplace lending does not take out risk."
Before it's here, it's on the Bloomberg Terminal.
LEARN MORE